AIM Control's Heavy Lift Project Cargo Inspections are to control all of sections of project from Heavy Industry Manufacturer to Field of project during transportation, shipping and period of installation in SAFETY.
One of core business for AIM Control is PROJECT INSPECTION.
We inspect Heavy-lift project cargo/ Super-cargo/ Break bulk cargo or out of gauge cargo (special cargoes) from factories Worldwide, release shipment to load and stowage on board of vessel for transport at export ports, unloading at import ports and deliver cargo to jobsites Worldwide. Each project is unique, few jobs are alike and we take nothing for granted when we start up on a new Project controlling. Email: Cell: +84903615612.
We handle all types of cargo which can be part of a project, from small LCL inspection and heavy lift project cargo inspection of container, to very Large and very Heavy units loaded and stowage on ships (hold and on deck). To get the cargo to its destination we can apply all modes of inspections:
By Shipping

By Landing

By Railling

By Airlight
AIM Control's surveyors is a leader in providing risks control services for Heavy lifting of project cargo on loading/ discharging and lasing/ securing supervision as well volume measurement all kinds of special project cargo. Our specialist knowledge of moving out of gauge, break bulk, perishable and high value goods gives us the expertise required to find the right cargo solution.
AIM Control's expert calculate computerizing for Stowage, Plan, Lashing and Securing to heavy-lift project cargo/ Super-cargo/ Break bulk cargo or oversize and overweight sections consisting of checking strapping, banding, chains & binders, blocking & bracing and nylon lashing are available to ensure the cargo is secure for transport, inspection to forklift, crane capacities and handle and stowage, ship's holds capacity and her seaworthiness.
To Project Cargo Protection, our surveyors checking custom crating and taping are available to protect cargo during shipping
We provide heavy lift project cargo survey and consultancy services to, large yachts, planes, entire factories plants, boilers, wind generators, windmill, towers, giant turbines and ship propellers or statues more that ten metres high. Event item weighing more that 350 tons or being over metres long can be safety carried on break cargo vessel as BBC, Hapag-lloyd, Thorco, Biglift.
To heavyweights have to be handled during loading/ unloading and firmly secured for transport at sea, AIM Control 's surveyors and experts will take care of everything in conduct the inspection and supervision and give AIM Control's client, customers comprehensive advice
AIM Control's surveyors and experts have unique expertise handling heavy load/ discharging inspection and supervision
AIM Control's Special Cargo Inspectors/ surveyors/ experts at ports to coordinates and monitors the safe loading/ unloading all of special cargo worldwide.
AIM Control nautical inspectors, surveyors and experts have wide experience in handling LCL survey and heavy lift project cargo expertise.
Our good communications network with ports. port operations, stowage planners and crew on board of shipping line.
You select our heavy lift project and supercargo inspection during loading and discharging with care and use only companies with proven records. Our own network of offices covers a major part of the Globe - and our extensive network of partners covers the rest !
AIM Control's Heavy lift cargo loading and/or discharging inspection and supervision to ensure successfully inspection/handling of a project, there must be adequate KNOWLEDGE, CAPACITY and FLEXIBILITY. AIM Control is built to meet exactly these requirements.
We have experts in heavy lift cargo survey to supervision of vessel's loading/ unloading, heavy-lift cargo cargo lasing inspection during loading/ unloading , inspection to CONTAINER SHIPMENTS, inspection to forklift trucks capacity, inspection to vessel's crane capacity and operation, inspection to stowage heavy-lift cargo into ship's holds (Lower holds, Tweendeck, On-Main deck, monitoring to loading or unloading schedule. . .measurement to volume of heavy-lift cargo
You may have your lifting equipment inspected for legislative or Health and Safety reasons. Whatever the reason, the inspection should be carried out to give you the necessary confidence that you are only operating equipment that is safe to use.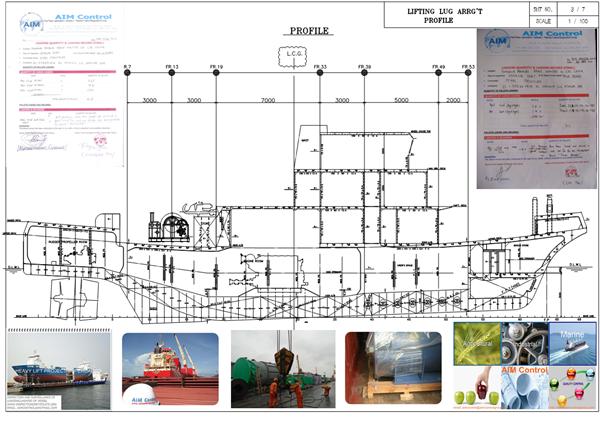 SAFETY FIRST !
BREAK-BULK cargo can be inspected/ handled several times during it's trip from factory to final place of delivery. During handling, cargo is always at risk and it is essential that the inspection/handling instructions given by the Cargo manufacturer are followed closely.
We always arrange for additional supervision / inspection when loading/discharging to BREAK-BULK/ Supercargo/ Heavy-Lift Cargo. The supervision/ inspection can be done by AIM Control staff professional Surveyors are Master, Captain, C/O, C/E sailing at sea in many years in Break Cargo Vessels!
Our surveyors can also assist with advice for CONTAINER LOADING, DESIGN OF PACKAGING, LIFTING METHODS etc.
We can offer PORT AGENCY services - this is an exclusive service to ship-owner /cargo owner, where we can protect their interests in any Port of loading/discharging.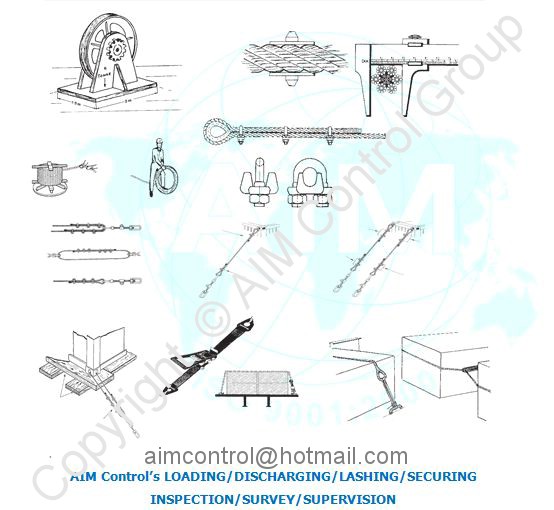 The followings are AIM Control's loading inspection and lashing/ secure supervision during loading of project cargo with heavy weight and oversize at the ship at Heavy Doosan Vina port, Dung Quat, Quang Ngai, Hai Phong Vietnam on board of vessel "BBC shipping line"

On January 2017
On January 2018

The followings are AIM Control's loading inspection and lashing/ secure supervision during loading and volume measurement of project cargo with heavy weight and oversize at Kwangyang port in Korea on board of vessel "MV JIA XING"

The following are some actions of AIM Control's project & marine surveyors in heavy lift project cargo inspection:
Visually inspect the quality status of all material collected in manufactory, land transport, port / ship per specification.
Meeting with ship's Master & his crew, Loading Master to approve on their cargo plan
Meeting with Shore & Port Captain to approve on their plan
Make a calculating of the stowage and the way in which the cargo is on the port's yard / ship ensuring that they conform to the manifested in the quality specification.
To carry out photographic report with general photos of the area of storage / stowage of ship, photos of general view.
Make a calculating of the packing on each package and the way in which the cargo is packed on the manufactory / port's yard ensuring that they conform to in the quality specification.
Diving inspection underwater parts (If heavy cargo is boat, yatch, lighters, vessel)
Inspect materials for loading materials, taking note of any incidents or damage they had using the quality protocols.
Inspect the condition of the ship's holds, certificate prior to the start of operations by checking that they are clean, with no debris from previous loads and free of oxides; And in conditions to receive this type of materials.
Describe the elements and means used for estimation and transit as indicated in the specifications provided. Before any incident, the surveyor verbally responsible information of stories works as the first corrective measure and make the corresponding letter Protest in case of not being corrected; Notice on site to client.
Supervise loading operations confirming that it is carried out as stated in the customer specifications.
Check that the number of components matches what is specified in the packing list.
Note the operating times as well as their stops and the reasons they have generated.
List differences between the received stowage plane and the final stowage plane of the vessel.
Inspect the condition of the closures and the hatch covers that are in the conditions of this type of materials.
Calculating & Expertise on lashing and securing to supervise on ship's being done.
Stop of ship's operation of loading, lashing and shore's if expertise its actions are wrong procedure can be risks arising.
Discussing with Experts of concerned parties to consultancy them the SAFETY before resume of operations
Issue the heavy lift cargo project inspection report and certificate.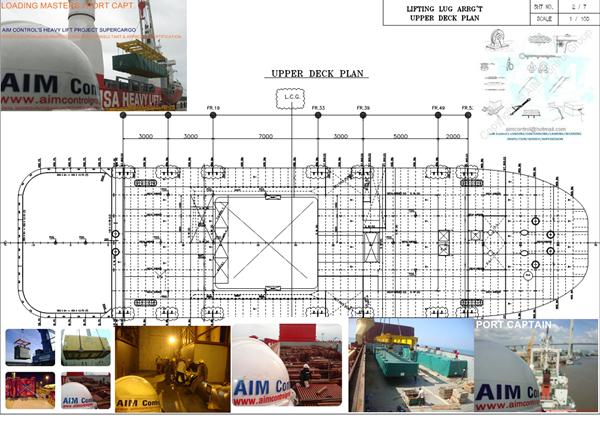 The videos taken at the site of heavy lifting project cargo inspection, survey and supervision during AIM Control surveyors and inspectors conducted the Loading / unloading / Lashing / Securing for Super Project Cargo in over-weight and over-sizes
AIM Control's heavy lift technical calculations in safe for one tug boat load on board of vessel under AIM Control Supercargo Experts supervised of in Busan Port of Korea:
AIM Control's heavy lifting experts have been requested to carry out calculations on lifting gear arrangement in order to load a 545 tug boat by means of ship's cranes consisted in two (2) deck cranes of 400t capacity each.
AIM Control's Heavy Lift Technical Calculations were based on the drawings prepared by AIM Control Technical Department (attached herewith) and further details discussed over the phone with Dr Capt. Nguyen Te Nhan and/or Master Mariner Nguyen Thuan Nghia / Nguyen Sy Huy and technical Port Captains from AIM Control's Vietnam Head office.
Accordingly, the load in aft hook equivalent to 368 t will be distributed in two sling legs with a load of 205 tons tension each. Each leg connecting the hook with the respective spreader end will be supported by 2 grommets steel slings 10m length and 114 tons safe capacity each.
The load at the heaviest end equivalent to 368 t will be supported by 4 polyester grommet slings 25m long and 100t safe capacity each attached to an spreader of 400 t SWL.
The total load equivalent to 575 tons will be supported by 8 polyester grommet slings 25m long and 100 t safe capacity each.
Having considered that the tugboat cross section profiles are not available at present it was discussed and agreed with the Capt. of AIM Control at the site of loading that at all times the slings and spreader will be maintained clear from the tug accommodation block.
From information made available it appears that the rigging lay out described on the attached drawings should be considered adequate and safe provided all equipment including ship's gear is duly certified by recognized organizations and is found in good conditions of maintenance.
This Report is based on facts presently known to the attending surveyors and is issued without prejudice to the rights of whom may concern. The right to amend or supplement this Report should additional information be made available is reserved.
URGENT CEL: +84903615612/ DR CAPT. NGUYEN TE NHAN/ G.D