Vessel Condition Inspection Services
For ships and vessels, the transport of goods at sea is always in peril therefore , the Ship and vessel condition inspections or surveys are carried out.
There are many scope / types of vessel condition inspections for as pre-purchase of ship, P&I for vessel, Insurance for hull and machinery, chartering, operating and managing, registration and others.
For one example of chartering of ship as following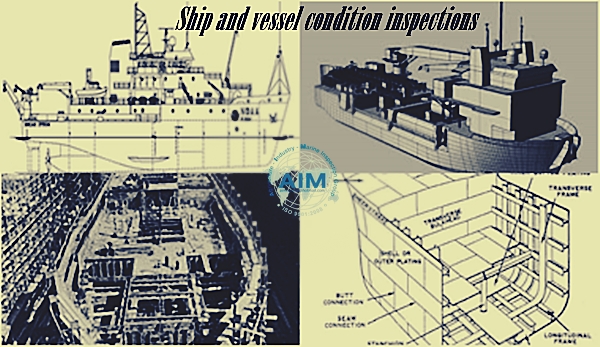 On / off hire vessel condition surveys
As independent Marine & Cargo Surveyors, we offer on / off hire vessel condition surveys, condition surveys & pre purchase inspection in ports of Vietnam, port's anchorage area of Pacific Ocean, Pacific, Atlantic, Indian, Southern, Arctic.
On-Hire Surveys / Off-Hire Surveys of vessel are undertaken on her structures condition to delivery of the vessel or is re-delivered into a charter.
The on / off hire vessel condition surveys are an inspection of vessel's holds, main deck, cargo working areas, external shell plating and stevedore report of damage
On hire / off Hire structure survey - Marine Surveyors in Asia and Global of AIM who have skill and experience to inspect on the condition of a ship or vessel at the time of delivery or re-delivery.
In full on / off hire ship technical condition surveys, AIM's ship inspectors will conduct the remaining bunker survey of quantity (ROB survey)
Referring to
Also see more bellows