Ship Hull and Machinery Survey Surveyors
AIM Group marine surveyors and consultant who inspect, survey a ship to monitor, verify, identify and report on the technical condition of the Hull, Machinery and Equipment.
An inspection of the hull and ship machinery are a specialized type of maritime inspection, intended to protect the ship against physical damage caused by a peril of the sea or other risks while the ship is in navigation. the ship structure is underwater and on water surface.
AIM not only conducts the surveying to examine the cause of the damage to the ship and her cargo but also supervise and test equipment for Newbuilding or operating of ships.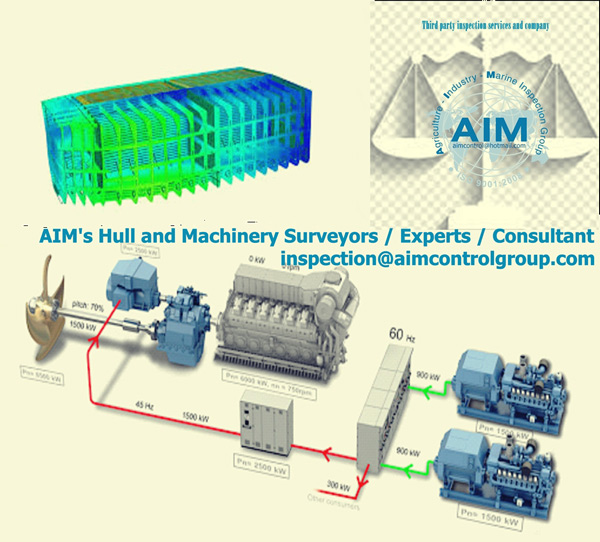 What is the difference between P&I and hull and machinery?
Hull & Machinery mainly covers total loss of a vessel and partial loss, salvage and collision liability (in part). The P&I insurance is a form of liability insurance which mainly covers personal injury, damage to docks, wreck removal, collision liability (in part) and oil pollution.
What is the purpose of hull and machinery insurance and survey?
Why is the hull of a ship survey?
Why is the machinery of a ship survey?
At AIM Group,
Our Key Points: Hull and machinery surveying is to report for the insurance on extent and cause damage incident in purpose of their coverage protects the insured vessel or fleet against a loss value consequence.
Referring to hull and machinery insurance and survey