Heavy Lift Project Cargo Loading Unloading Supervision Inspection
To safety for your shipment of projects in heavy lifting and shipping from manufacturing to loading port, to discharging port and to site of construction, what do you need?
One of core business for AIM Control is to provide the technical and consulting in heavy lift project cargo loading unloading supervision inspection and approval services in maritime & shipping of the oversize's and over-weight goods.
We inspect heavy-lift cargo super-cargo/ break bulk cargo or out of gauge cargo (special cargoes) from factories Worldwide, release shipment to load and stowage on board of vessel for transport at export ports, unloading at import ports and deliver cargo to jobsites Worldwide. Each project is unique, few jobs are alike and we take nothing for granted when we start up on a new Project controlling.
AIM Control expertise and coordinate worldwide warranty surveying & approving services of safety for the complex industrial plants and heavyweight & oversized goods in shipping.
Technical specialists, Reliability, Professionalism & Experience.
We control the pre- and on-carriage to and from the respective manufacturing, sea ports and the sites.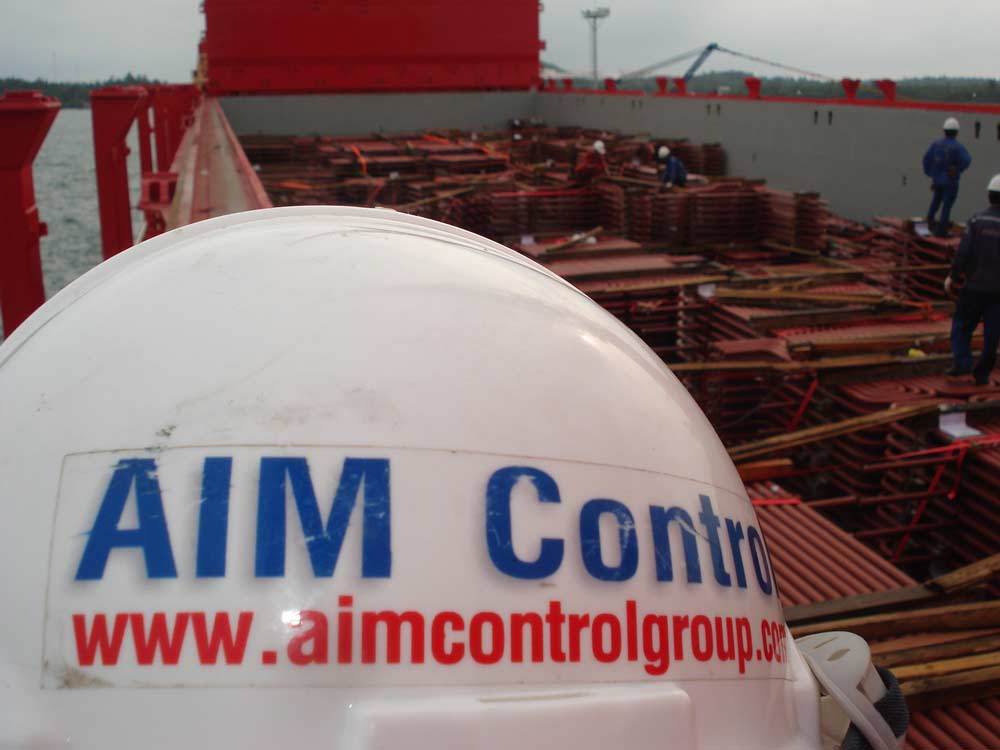 AIM Control's heavy lift project cargo loading unloading supervision inspection services carried out all of operation from Packing & Marking; Pre-loading; Moving from manufactory to pier of port's berthing, loading; stowage; lashing & securing . . .
We handle all types of cargo which can be part of a project, from small LCL inspection and inspection of container flat raft, open top, to very Large and very Heavy units loaded and stowage on ships (hold and on deck). To get the cargo to its destination we can apply all modes of heavy lift cargo inspections:
By Ship

By Truck

By Rail

By Air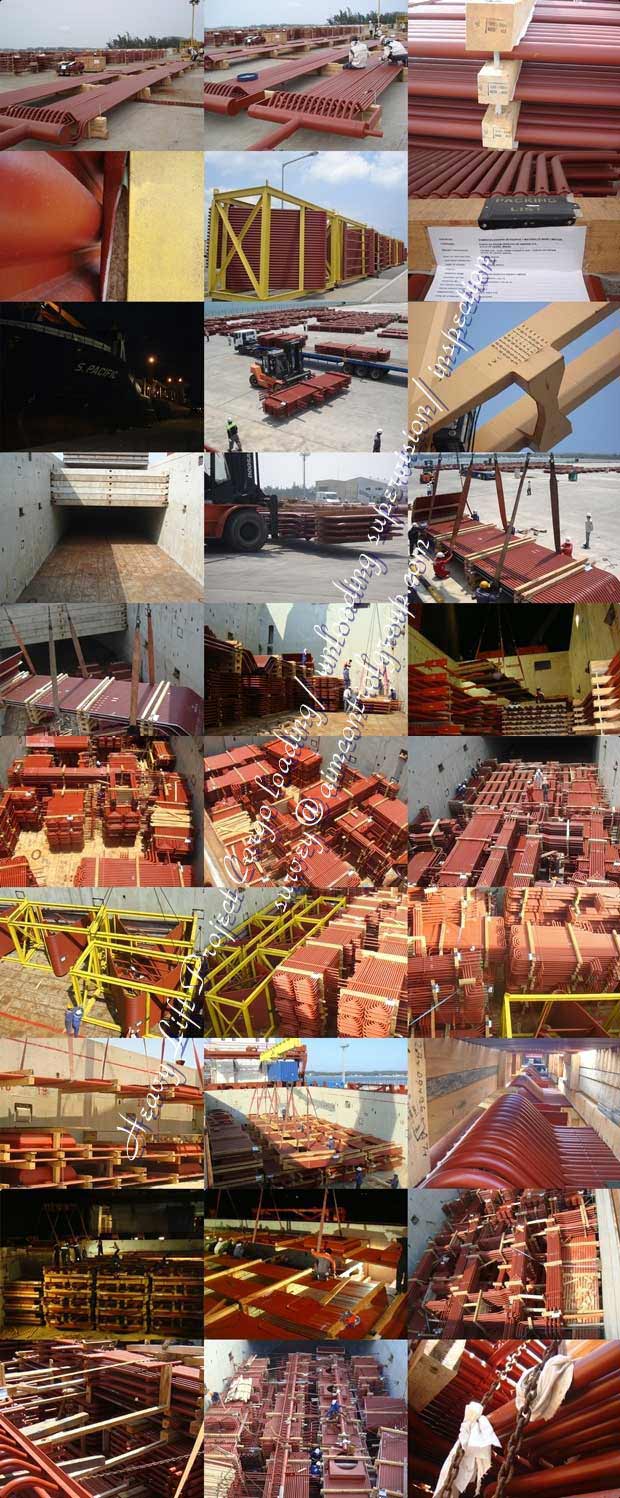 AIM Control's surveyors and experts performed the actions of the heavy lift project cargo loading unloading supervision inspection jobs and lashing/ secure supervision to all kinds of special cargo. Our specialist knowledge of moving out of gauge, break bulk, perishable and high value goods gives us the expertise required to find the right cargo solution.
Our securing cargo inspection and supervision to heavy-lift cargo/ super-cargo/ break bulk cargo or out of gauge cargo consisting of checking Strapping, banding, chains & binders, blocking & bracing and nylon lashing are available to ensure the cargo is secure for transport, inspection to forklift, crane capacities and handle and stowage.
To Cargo Protection, our surveyors checking custom crating and taping are available to protect cargo during shipping
We ship inspection and supervision, large yachts, planes, entire factories plants, boilers, win generators, giant turbines and ship propellers or statues more that ten metres high. event item weighing more that 350 tons or being over metres long can be safety carried on break cargo vessel as BBC, Hapag-lloyd.
To heavyweights have to be handled during loading/ unloading and firmly secured for transport at sea, AIM Control 's surveyors and experts will take care of everything in conduct the inspection and supervision and give AIM Control's client, customers comprehensive advice
AIM Control's surveyors and experts have unique expertise handling the heavy lift project cargo loading unloading supervision inspection in maritime shipping.
AIM Control's Special Cargo Inspectors/ surveyors/ experts at ports to coordinates and monitors the safe loading/ unloading all of special cargo worldwide.
AIM Control nautical inspectors, surveyors and experts have wide experience in handling LCL inspection and others relation services.
Our good communications network with ports. port operations, stowage planners and crew on board of shipping line.
You select our heavy lift project cargo inspection during loading and discharging with care and use only companies with proven records. Our own network of offices covers a major part of the Globe - and our extensive network of partners covers the rest !
AIM Control's heavy lift project cargo loading unloading supervision inspection are to ensure successfully inspection/handling of a project, there must be adequate KNOWLEDGE, CAPACITY and FLEXIBILITY. AIM Control is built to meet exactly these requirements.
We have experts in Heavy Lift Project Cargo Loading Unloading Supervision Inspection surveying to certify and consult to CONTAINER SHIPMENTS and SHIP JUMBO to forklift trucks capacity, inspection to vessel's crane capacity and operation, inspection to stowage heavy-lift cargo into ship's holds (Lower holds, Tweendeck, On-Main deck, monitoring to loading or unloading schedule. . .measurement to volume of heavy0lift cargo
You may have your lifting equipment inspected for legislative or Health and Safety reasons. Whatever the reason, the inspection should be carried out to give you the necessary confidence that you are only operating equipment that is safe to use.
SAFETY FIRST !
BREAK-BULK cargo can be inspected/ handled several times during it's trip from factory to final place of delivery. During handling, cargo is always at risk and it is essential that the inspection/handling instructions given by the Cargo manufacturer are followed closely.
We always arrange for additional services to BREAK-BULK/ Supercargo/ Heavy-Lifting Cargo. The supervision/ inspection can be done by AIM Control staff professional Surveyors are Master, Captain, C/O, C/E sailing at sea in many years in Break Cargo Vessels!
Our surveyors can also assist with advice for CONTAINER LOADING, DESIGN OF PACKAGING, LIFTING METHODS etc.
AIM Control's heavy lift project cargo loading unloading supervision inspection maritime shipping services
The Most Technical Offshore Heavy Lift and Transport Providing in the World.
Provide the technical know-how

Minimize risks

Conducted by staff expertise

Provide better quality
Who should do?
Heavy Lift Equipment Operators and Supervisors

Project Cargo Forwarders, Break Bulk Charterers and Logistics Managers

Project Directors, Heavy Lift Specialists, Heavy Lift Engineers

Shipping Managers and Project Supply Chain Professionals
Why Appoint AIM Control's Heavy Lift Maritime Services?
The answer is quite simple. You are moving equipment worth millions of dollars for your customer.

Increase your company's interests!

Increase the quality of work by the technical ability of workforce.

Appoint AIM Control's Heavy Lift services to protect your rights!
We can offer PORT AGENCY services - this is an exclusive service to ship-owner /cargo owner, where we can protect their interests in any Port of loading/discharging.
The followings are the heavy lifting project cargo loading and unloading supervision inspection jobs done by AIM Control's global network experts at all of ports / harbor since 2008


We are marine warranty surveyors & experts, specialist in services of control survey and consultancy for heavy lifting & project cargo, container & vsl in shipping over 40 years ago in Vietnam, Thailand, China, Brazil, Germany, Egypt, Bangladesh, Panama, USA, Indonesia, Turkey, Mexico, Italy, Saudi Arabia, Chile, Korea, Singapore and others & Asia, EU., America, global for safety and approving of certification
Object in shipping
Heavy Haul as Plant Barge Rigging Jack & Slide Storage Crane

All projects & other shipments for import & export
Clients in fields
Oil and Gas, OEM's and Machineries, EPC's, Fabricators

Carriers, Insurance & Underwriting, Logistics Supply Chain, Government & Authority

Others
We would like to introduce AIM Control to you for notice when you need our services