Pre-purchase ship condition survey
Pre-Purchase Ship Condition Survey
AIM Control's Pre-Purchase Ship Condition Survey is Pre-Sale Survey (pre-buy survey) for one motor vessel, AIM Control's actions are consisted of pre-purchase inspection of her condition, sea trial and professional inventories.
For over 30 years AIM Control Survey & Inspection Group has been providing "Professional Marine Services" to Vietnam, International area ship's owners. Contact us
Purchase Ship Condition Survey / inspection is a pre-purchase survey is a thorough inspection of the vessel's structural and watertight integrity, system's installations, and operating condition, as well as performance. A comprehensive report is issued which includes an equipment list, specifications and detailed list of deficiencies and recommendations. Replacement and market values [in US dollars] are assigned to the vessel. Most lending institutions and insurance companies require a pre-purchase survey.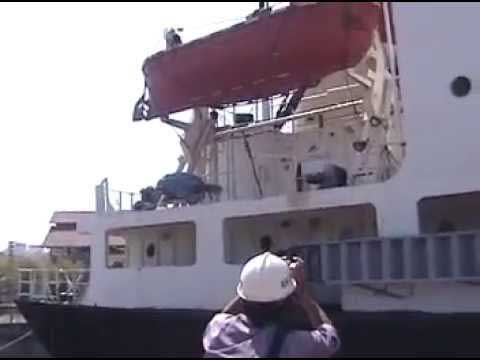 Also known as a "Buyer's Survey", it is a detailed examination/inspection of a vessel to determine its condition and value. The survey is done for a prospective buyer prior to the actual purchase.
Although a particular vessel may have a well-documented history of use and maintenance, it is in the best interests of the client that the findings of AIM Control's surveyor result specifically from its current state. The survey is therefore based solely on a Purchase Condition of Vessel careful survey inspection of all accessible portions of its structure and available equipment such as:
Hull/Deck/Coachroof laminates and cosmetic condition

Underwater body through hulls and seacocks

Interior frames/bulkheads and supporting structures

Rudder and steering gear

Propeller, shaft, cutless bearing, strut

Deck fittings, lifelines, stanchions, mooring cleats

Accommodation spaces - Interior finishes

Galley equipment - refrigeration

Fresh water tanks, pumps, hoses, heaters

Marine Sanitation Devices (MSD) - holding & discharge systems

Engine, fuel system, exhaust system

Electrical systems - 12VDC & 120VAC

Storage batteries - load testing

Navigation equipment/ electronics

Ground tackle, windlass

Spars and rigging

Fire fighting and Safety Equipment

LPG and CNG systems.
Under ideal circumstances, the Pre-purchase ship condition survey / the pre-purchase ship inspection consists of three phases of checklist and report sample
Phase I
Ashore with full access to the underwater body. All areas of the underwater body, side shells and deck/coach roof are inspected by "sounding" and testing with a moisture meter to determine the structural integrity of the vessel. The keel, rudder, hull penetrations, and propulsion components are evaluated. Electrical systems and electronics are tested. However, some testing of systems and verification of certain components, such as sea valves, stuffing boxes, and steering systems can only be done while afloat under operational conditions.
Phase II
Afloat with all tanks filled and all systems operating. Propulsion machinery is operated, but in a static mode only and not under load. The integrity of sea valves and hull penetrations can be verified. Certain auxiliary systems can also be run, but only to a limited extent.
Phase III
Sea trial underway with all machinery and systems operating. Sea trials are at the request of the client with the vessel operated by the owner or the owner's authorized agent. Propulsion machinery is operated under load and all systems and components can be tested under actual sea conditions. Generally, the following activities take place:
40-60 minutes at normal cruising engine revolutions

Engine Instrumentation & controls checks

Engine block & exhaust temperature measurements

Engine exhaust system integrity evaluation

Full power trials (maximum engine revolutions)

Hard over to hard over (steering systems test)

Emergency stop

Steering astern

Operation of marine electronics and navigation gear

Demonstration of electrical system(s)

Demonstration of bilge pumping system(s)

Demonstration of potable water system

Demonstration of marine sanitation system

Demonstration of galley equipment
Contact with us for a Sample Marine Pre Purchase Ship Condition Survey Report
The Insurance Vessel Survey/ Casualty Investigation
Insurance underwriters periodically require that an inspection be done to verify that the vessel is an acceptable insurance risk. In this inspection, the insurance company is concerned with the overall structural condition of the vessel, its fair market value and, most importantly, the presence of any hazardous conditions that would affect its safety at sea.
Insurance surveys can be done when the vessel is afloat or ashore. If the vessel is afloat, the insurance company may require that it be hauled so that the condition of the underwater body, keel, rudder, and propulsion equipment can be evaluated.
The insurance survey is not as detailed as the pre-purchase survey and is not intended to be as comprehensive. Only critical systems are tested and cosmetic conditions are only noted when they markedly affect the vessel's value. Safety and structural issues are the primary concerns. The insurance vessel survey should never be accepted in lieu of a full pre-purchase survey when purchasing a vessel.
The Vessel Appraisal
This inspection determines the fair market value of a vessel and is used for a variety of purposes such as collateral, estate assessment, litigation, etc. The focus is upon the condition and value of the boat's structure and its accessories/equipment.
Please kindly review marine surveys of AIM Control Inspection Group.
Our People
At AIM Control, we draw upon and range of technical skills and have professional personnel qualified in a range of areas, typically; Master Mariners, Marine Engineers & Superintendents all offering specialised knowledge, having extensive seagoing experience in their particular field. Based in Vietnam, assignments are managed globally through operations in Vietnam, Asia.
AIM Control conducts a pre-purchase ship condition survey / inspection for a wide base of clients including
See more our surveying and investigation, namely (but unlimited)
We are an independent marine inspectors, marine surveyors and incident & accident experts providing cargo insurance surveys, marine & ship survey, reports and certificates based in Vietnam, Hong Kong, China, India, Korea, Singapore & Asia, Italy, Germany, Unit Kingdom, Russia & Europe, the Middle East, Brazil, Chile, Argentina & Ect., Anywhere of Countries to protect your orders in good condition. Email: aimcontrol@hotmail.com, cell: +84903615612.
Experince
AIM Group's evidence of Pre-purchase ship condition survey / Inspection carried out on the MV "SEALORD" berthed at Tai Cang Port, China

AIM Group's evidence of Pre-purchase survey of ship condition carried out on the MV "PAIMPOL" berthed at Hai Phong Port, Vietnam

AIM Control's evidence of Pre-purchase inspection of ship carried out on the MV "XINHE" berthed at Vung Tau Port, Vietnam


AIM Control's evidence of Pre-purchase condition survey / Inspection carried out on the MV "Blossom Pescadores" berthed at Jinjiang Port, China:

Our evidence of ship pre-purchase inspection of condition carried out on the Barge "Hannah 3601" berthed at Chicago Port, United State of America (USA):

Next=> See more "the Pre-purchase vessel condition inspection (PPI)"