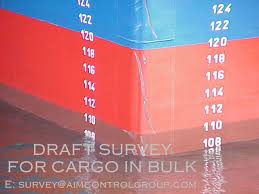 Draft Survey
Draft Survey
A Draft Survey is to surveillance the loaded (unloaded) weights of cargo from ship's displacement that are measured, calculated and reported by AIM Control's surveyors for the benefit of all the interested parties. Email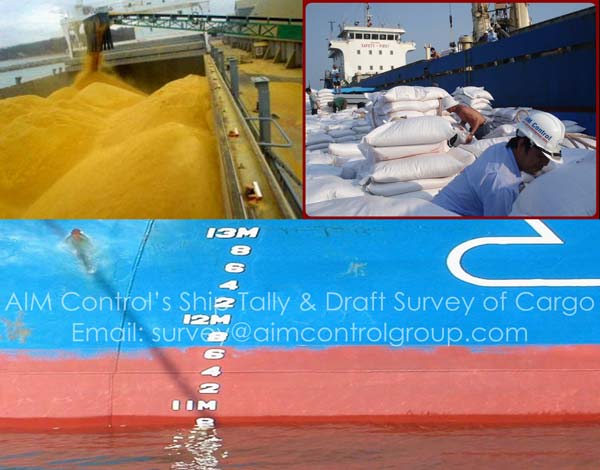 A well-conducted ship draft survey should achieve accuracy to with in 0.5%.
The draft inspection must be conducted meticulously, taking into account all the prevailing circumstances.
The final report of draft survey should incorporate every aspect and difficulty, which has been encountered in order to convey all aspects of the survey. The draft ship survey certificates of AIM Control Inspection Group according to UN, ECE International Code.
Marine ship surveyors of AIM Control can conduct this jobs for customers to check weight (quantities) of bulk cargo such as sugar, wheats, cement, rice, animal feeds, iron ore, coal, steel scrap, grain in bulk (or in bags) and some specific quantities of liquid cargoes are determined under an international commercial custom that traded.
In draft survey calculation, cargo quantities are calculated based on the change of ship's draftmakrs between different stages in the loading or discharging process by using the draught scales and hydrostatic property tables on board the ship. This convenient method is universally adopted as the most efficient and reliable way of measuring the cargo quantity where accurate product properties such as density and stowage factor are not reliable.
We use internationally recognized methods and modern equipment for measuring the necessary variables for an accurate outcome.
Please kindly review SURVEY OF MARINE provided by AIM Control Inspection Group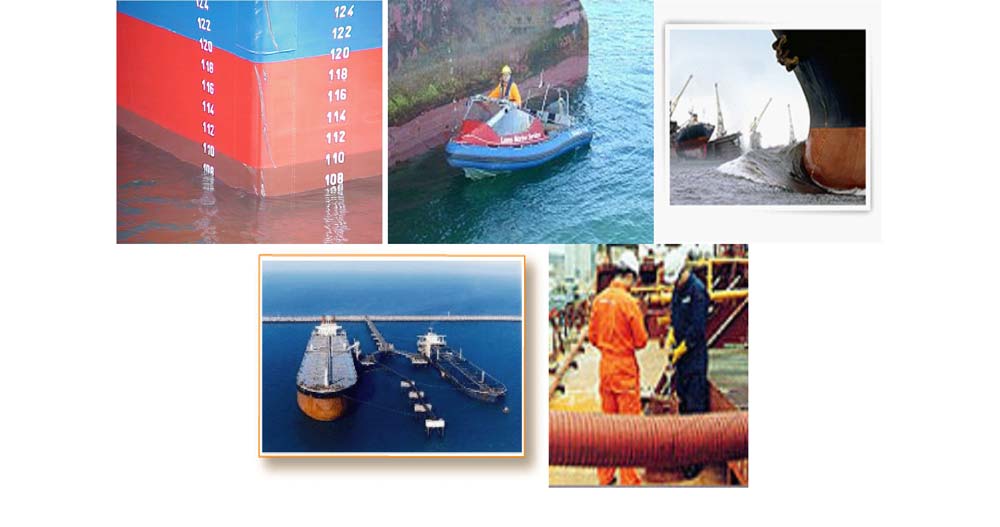 How to reading a draft marks of a vessel to calculate
AIM Surveyors conduct the initial & final surveys of draft in association with Ship's Master and Cargo Chief Officer to ascertain the gross weight of goods loaded in the vessel's cargo holds and issue the weight certificate / survey report.
The draft surveying (initial and final) has to be carried out by qualified and competent / experienced surveyor
Density of sea water at load port (discharging)

Stability tables (hydro-static) of the ship

Sounding of all tanks available on the ship (fuel, ballast water, fresh water)

Details / particulars affecting the survey results

Facts & figures of consumables / deductions on the vessel at Initial & Final Survey (constant of ship, fuel consumption of initial to final and etc.)

Trim to be applied (the difference is between the forward and after draft figures)
Please also kindly review Sealing & Unsealing
With cargo in bags, the weight / quantity of goods are carried of the tally of cargo, but the weight of shipment are checked again then the ship-owner or other parties orders AIM Control's.