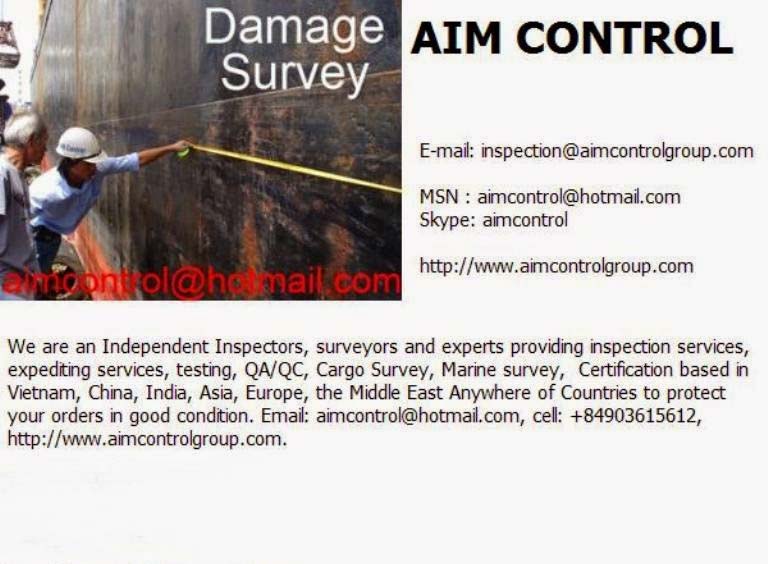 Damaged Marine Cargo Survey
Experts of Damaged Marine Cargo Survey Services
AIM Control is the damage experts in investigation the causes of accident and incident in maritime over 50 years of experience, called damaged marine cargo survey services.
INVESTIGATION OF LOSS, DAMAGE TO CARGO
Damage to cargo is the most frequent type of liability that confronts a shipowner and their insurance. Unfortunately, cargo damage is often caused by small mistakes. In the case of damage to a cargo on board, it is vital that all the facts are recorded and documented.
An important function of the Bill of Lading (B/L) is to describe the condition and quantity of the cargo as received on board. If the cargo is discharged in a different condition, or in a lesser quantity, than that entered on the B/L, the ship-owners may be held liable for the damage or shortfall.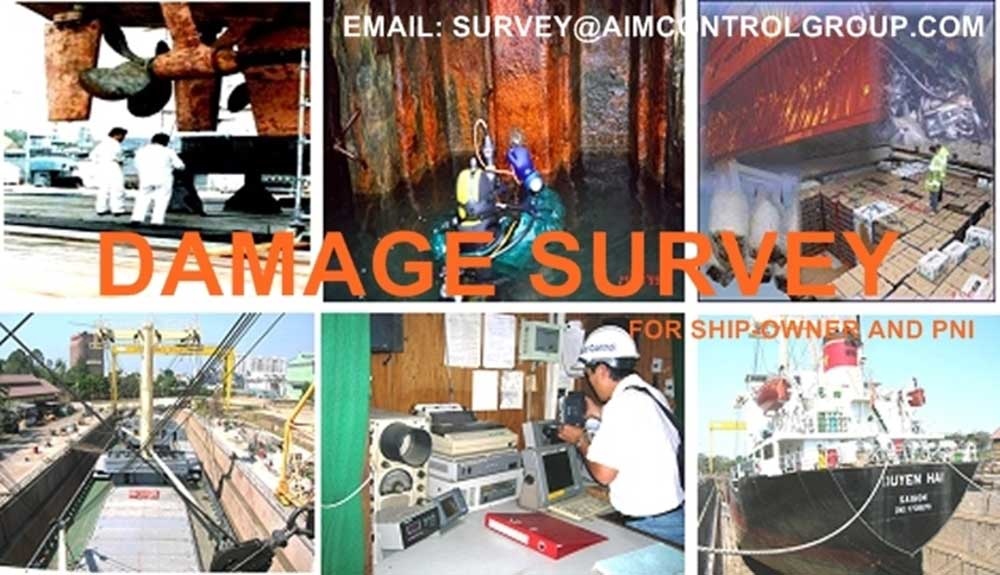 Survey services of damage / loss for container & cargo
All kind of cargo (including reefer cargo) inspections, using the state of the art equipment. Categorizing damages for lease and lesser.
For determining cargo damages and inspection, completes digital photographic reports and issuing of certificates
Cargo Inspection to fruits and vegetables shipments, for maturity claims, using the state of art equipment to assess cargo damages
Investigation and Analysis, Testing are to find caused roots causes and extent of damage.
Invitation salvage purchasers to take part in the salvage bid. (also carrier, receiver, logistics / forwaders, others to joint survey)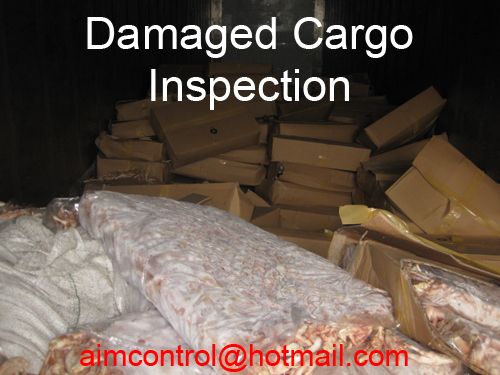 INVESTIGATION OF LOSS, DAMAGE TO MARINE
Damage to marine is type of liability P&I, not only Ship's hull, machineries, equipment and others devices but also port's yards, shore's cranes, barges & lighters, fishing boats, other vessels.
AIM Control's marine surveyors & experts immediately attend on board or site to witness, consultancy to Ship's Master in Urgent damage to marine case.
The importance is first Safety, after that, reduce the loss and damage arising furthermore with suitable quick actions under 50 experience years of sailors.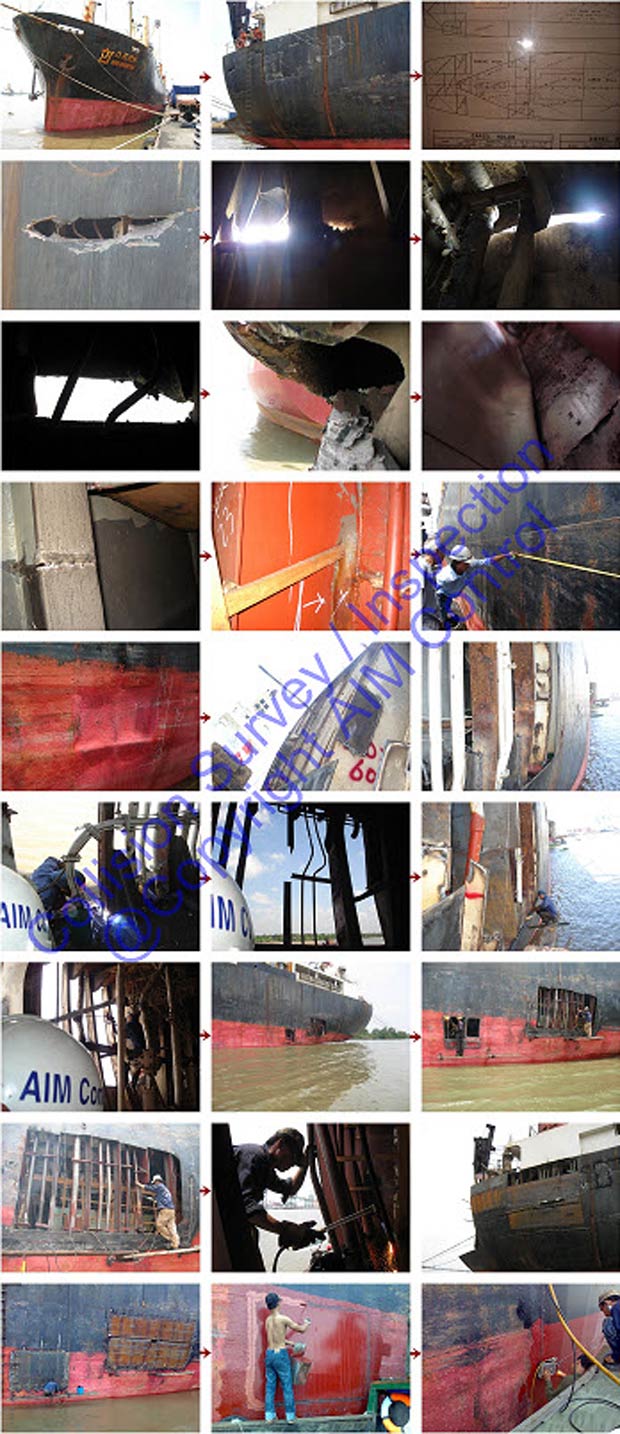 Is it damaged?
Inspect cargo as it comes on board. Check for any differences you may find and record them. Notify the shipper and charterers that you intend to alter the shipping document to reflect your observations. Alternatively, reject the cargo.
Extent of damages (or loss) in physical and in value.
All relative parties, Plan and method of dealing with the consequences.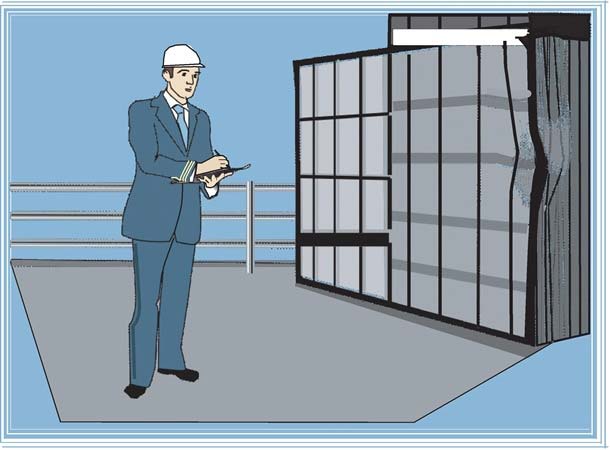 Inspect the cargo and record any differences.
Investigation the root casue and ship's structures, shore's objects and others.
No 'back letters'
Do not give authority to sign a clean B/L in exchange for a 'back letter' or indemnity. Such action is fraudulent and makes the P&I Insurance in valid.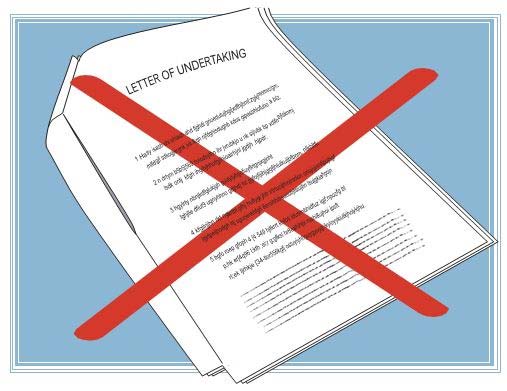 Do not accept 'back letters'
Tally the cargo
The tallying of cargo during loading and discharge is a useful means to avoid or limit shortfalls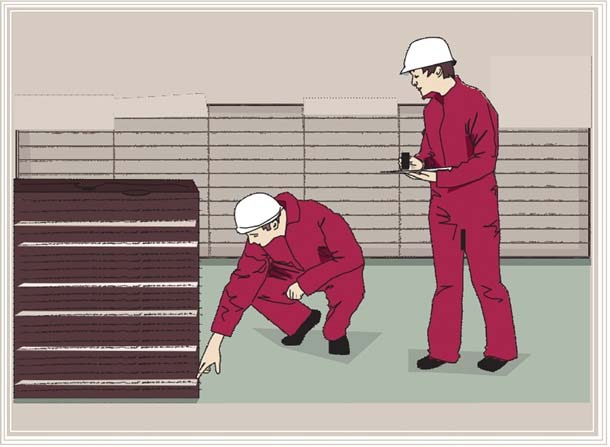 Tallying avoids or limits shortfalls
Record inspections
Record in the log book inspections of cargo holds undertaken by the ship's officers or crew during the voyages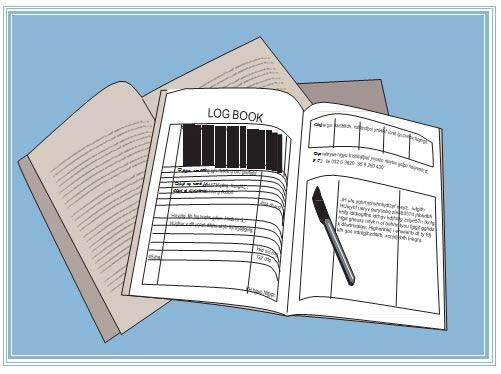 Accurately record all inspections
Safely stowed
Make sure that cargo is carefully and safely loaded, stowed, separated, carried and discharged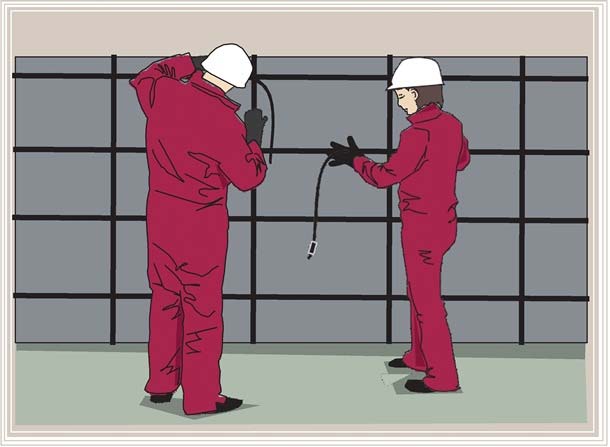 Safely stow the cargo
Put it in writing
In Time Charters applicable to dry cargo vessels, the responsibility for load, stow, trim and discharge operations is sometimes transferred from the shipowners to the charterers. Therefore, if you see reason to interfere in the way the charterers, or their supercargo, stow or handle the cargo, make sure you carefully write down your reason for objecting. Ask the correspondent to telefax a copy of your remarks to the ship's owners. In this respect, photographs can be very useful.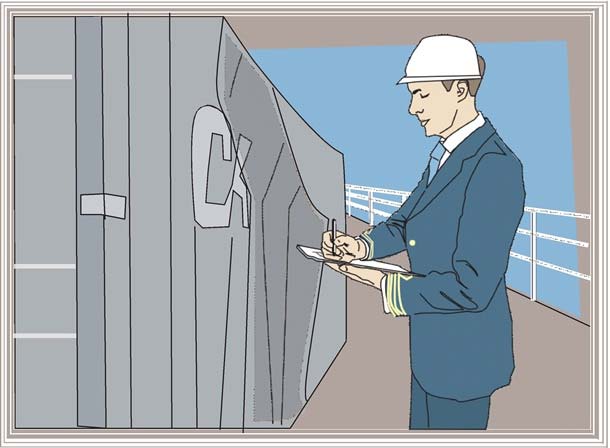 If there is an objection, write it down
Sea- and cargo worthiness
The Master always has the final responsibility for the sea- and cargo worthiness of the vessel
Survey the damage
If you suspect that your cargo may have been damaged during the voyage, inform your owners. They should then request to arrange for a surveyor to meet you at your destination. Alternatively, you may always contact your local correspondent. They are instructed to immediately assist you in any way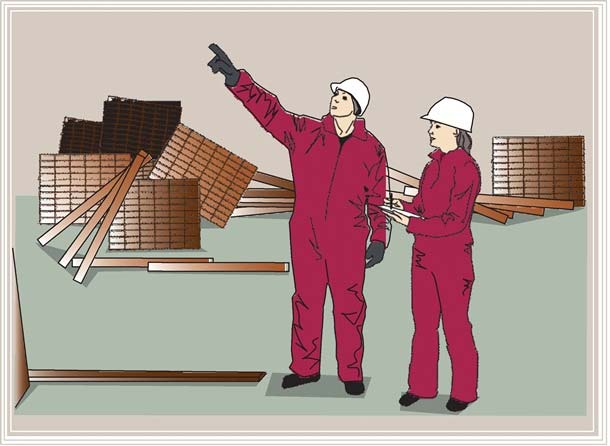 Ensure any damage is surveyed and recorded
Weather reports
In case of heavy weather, keep a copy of any meteorological reports, or warnings, and properly record the conditions in the ship's log. This particularly applies to adverse sea conditions which may cause damage to the goods on board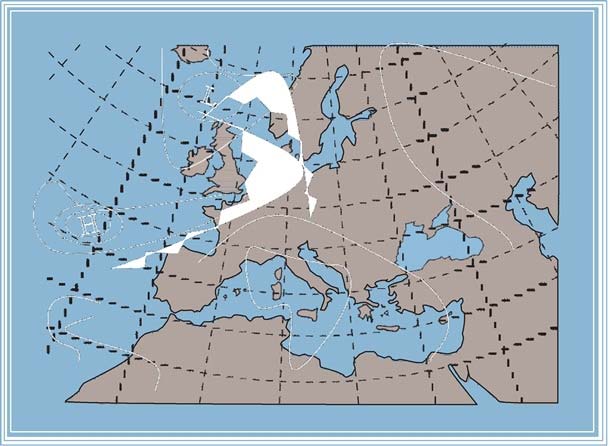 Keep copies of weather report
Protest
Lodge a sea protest at your first available port of call and make sure a log extract, showing relevant entries, is attached. Co-operate as much as possible with the surveyor appointed on behalf of the owners at the destination. If possible, the Master should attend the survey of damaged cargo himself, or have his Chief Officer attend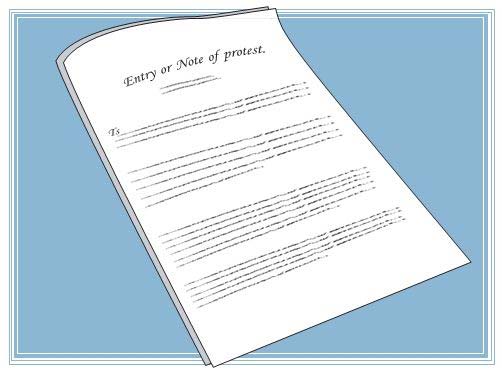 Lodge a sea
Keep unidentified people away
Consult the local correspondent before giving permission for unauthorised surveyors or lawyers to board the vessel. Protect your owners' interests by posting a gangway watch. Be prepared to prevent unauthorised people from boarding the vessel. Guarding your ship shall always be in accordance with the ISPS code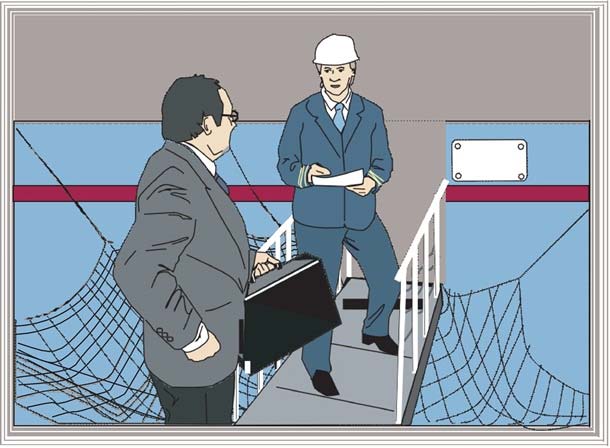 Stop unauthorised people from coming on board
Minimise losses
Damage can be reduced by immediate separation of wet cargo (e.g. wet fertiliser) from the rest of the cargo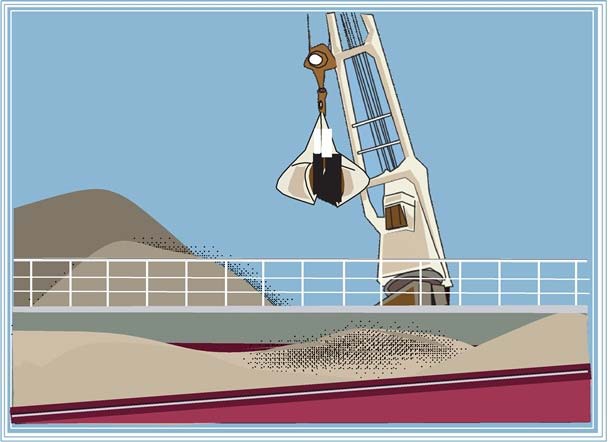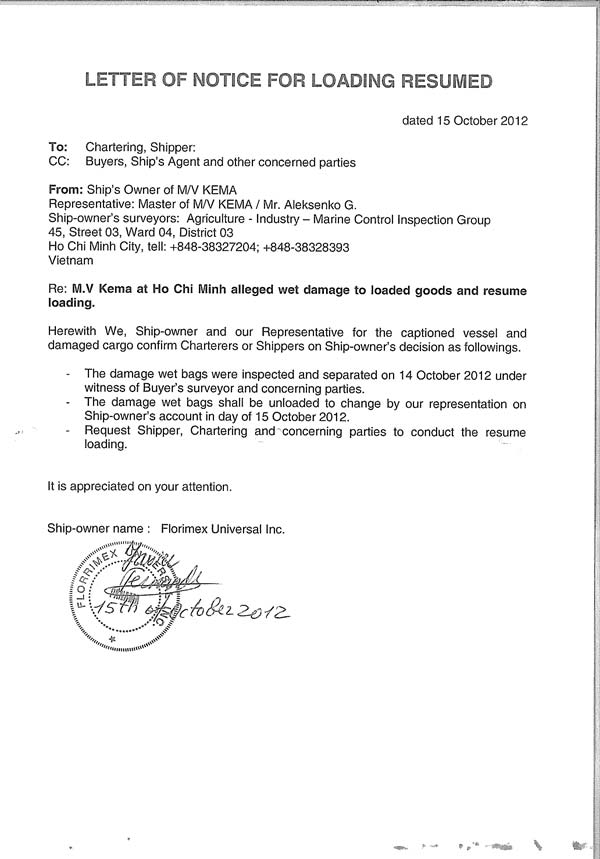 Separate dry and wet cargo
Log it
Also record any other factor that may have a bearing on the cargo carried, e.g. ventilation provided to avoid condensation. In addition, record relevant dew-point readings in the cargo spaces and outside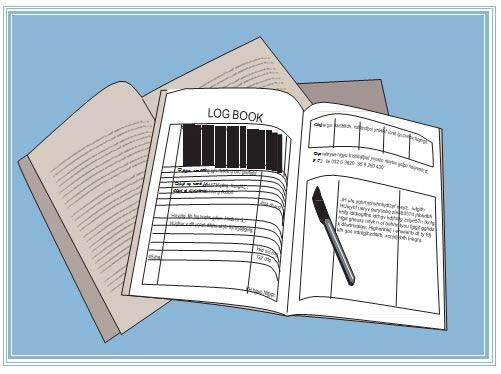 Record all details concerning the cargo

Surrender of cargo
Cargo must only be delivered to the holder of the original B/L or his agent. This important formality is usually attended to by the ship's agent – but if you do find yourself in a difficult or worrying situation, contact the local correspondent
Immediately inform the correspondent.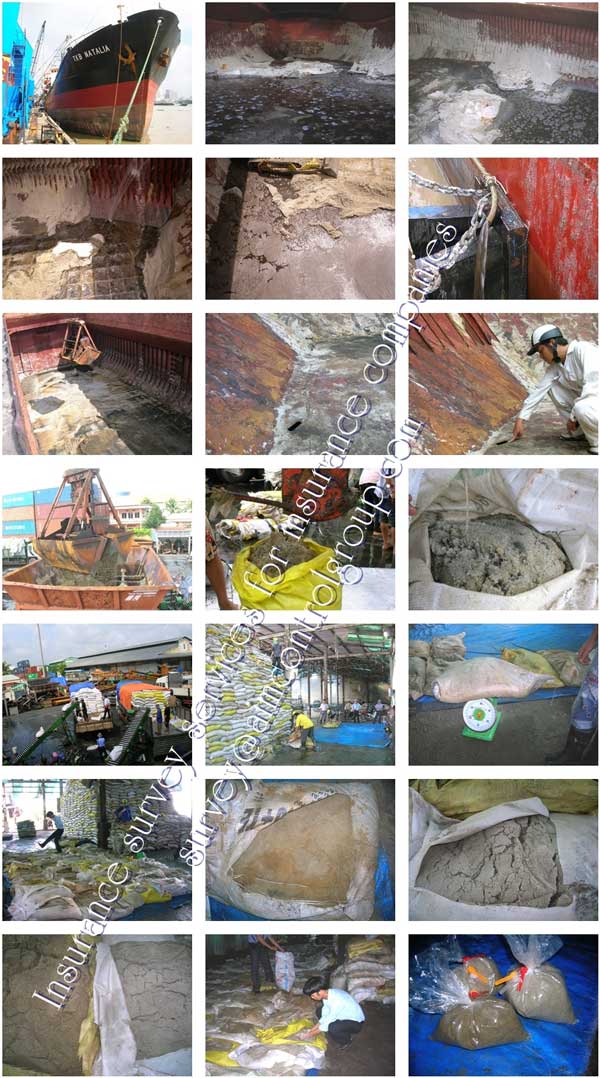 Please kindly find our more services at DAMAGE SURVEY / INSPECTION
The damage investigation / Survey Services
The main function of the fire investigation / survey service is listed as follows:
Investigation on the cause of loss

The actual quantity and estimated dollar amount of the loss

Provide any report you can get, such as damage report.

An On Site Survey Check List and survey photos must provide to our attention within 24 hours of survey.
The following Damage Survey/ Investigation service is necessarily carried out by AIM Control independent surveyors
Also see our Damaged marine cargo survey and Vessel / Container survey services in relation
Damage Cargo & container inspection services.

Damage Cargo & Vessel inspection services.

This is performed to determine the cause and extent of damage, recommend repairs, and estimated repair cost. The damage inspection may be requested in the event of an insurance or warranty claim.
The damaged marine cargo survey jobs appointed by ship-owners and PNI to AIM Control carried out as some examples