Long grain white rice inspection certification
AIM Control offers a Long grain white rice inspection certification for the buyer, shipper, broker and other parties to control on quality rice and weight of rice in purchase / foreign trade contract at supplier's warehouse, premises.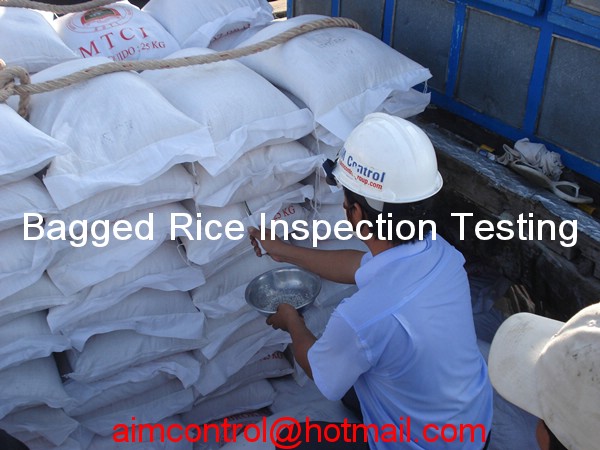 The white rice are inspected and certificated before packages it into bags 50 kg net for exporting carried out by AIM Control's rice inspectors, rice samplers, rice testers, and goods experts.
During performing the Long grain white rice inspection certification services, AIM Control's surveyors also measurement moisture of white rice at 14% Max, measurement of bags and identified its marking.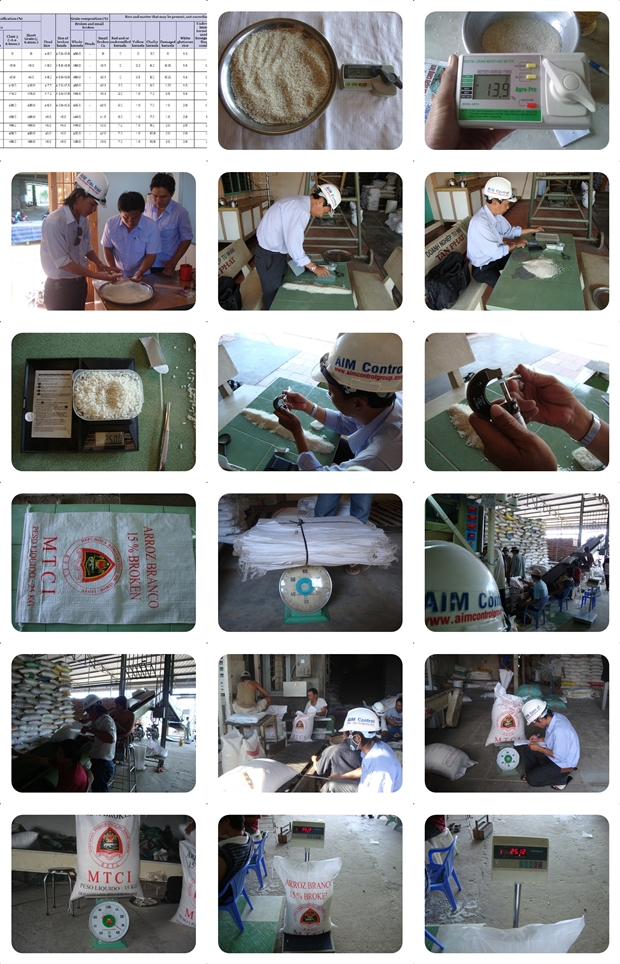 AIM Control also surveyed on type of rice, broken chip, its harvest,...aiming the lot of white rice shipment is meet with Purchase's requirement totally.
AIM Control's surveyors also do the ocean vessel / carrier's cargo holds condition, container's condition, dunnage, handling of stowage, loading supervising, watch keeping weather period of loading.
AIM Control's tally-men team clerk is responsible to carry out the counting of rice bags quantity, volume, weighing, label, shipping's marks per commercial standards and Purchase order's Rice specification. Also providing rice cargo bagged inspection, bagged rice tally, rice in bags loading and discharging supervisions on board of ship's holds and marine vessel at ports of loading and unloading, Rice Bagged and stuffed into Containers at Supplier's warehouses, premises.
Place of rice inspection: in stock and premises sellers, in barges, lighters, ship's hold while her berthing at ports and anchorage at river, in containers, special in Vietnam and Thailand. Our Local Email: aimcontrol@aimcontrolgroup.com, aimcontrol@hotmail.com, cell: +84903615612.
Times of rice inspection, assessment of rice: in time packing, during loading into carrying marine vessel, ship's holds, barges, lighters, stuffing/ inserting rows into containers . . . conveyors.
AIM Control's rice cargo testing and inspection reports will be sent daily and rice certifications sent you finally to you..
At AIM Control's rice bagged inspection services, there are 02 job styles of rice cargo inspections, namely:
First rice inspections are rice bags tally and loading supervision for ship-owners, shippers, operators and insurance company, others during loading.
Second rice inspections are rice quality and cargo quantity bagged for buyers, purchasers during packing/ bagging and loading.
General Long grain white rice inspection certification in Vietnam, Thailand
At supplier's warehouse and premises:
First at all, Job Assignment Details: identify rice Suppliers, rice Shipper, rice specification and quality, weight, packing, shipping mark and labels, rice quantity, vessel's name carrying and loading, Port of loading, destination, inspection date, etc.
Rice sampling in stock suppliers to test/ analysis and identity the rice quality meets with standards and P.O, L/C and rice buyer's requirements in details.
Approval on the rice quality sampling used for the suppliers rice production before bagging.
Identity to label and shipping marks of new empty bags are suitable with rice buyer's requirements and rice shipping standards and measurement of sizes of new empty bags.
Tare, gross and net weight of bagged rice is inspected during packaged at supplier's warehouse and premises. (Supplier's weighing scales also are inspected and calibrated with our standard scale before packing with standardized weights).
Rice Quality & Weight are monitored and inspected during production and bagged/ packaged. Uniform Quality and Weight are reported in daily and at finally.
Digital Photos are taken during the course of inspection
At Rice ships, loading ports and upon stuffing into containers:
For ships: The Inspector checks the condition of the ship's holds, including cleanliness and watertight Hatchers inspections, previous cargo, overlaid with dunnage materials.
For containers: Before container stuffing, the empty container is checked for cleanliness, dry, free of odour, free of infestation, watertight, etc.
Rice cargo quality, weight and rice general specification are re-inspected in supplier's barges and trucks before loading into ship's holds and/or containers.
Rice cargo tally is carried out in each sling of rice bags during loading into ship's holds and bag by bag in containers in stuffing.
Loading Supervision of Rice in bags stowed in ship's holds, containers to suitable for shipping at rice loss/damage prevention.
Rice others are inspected basing on requirement of our client in details.
AIM Control Inspection Group provide on request the following steps of rice sampling, rice inspection & testing, rice bagged tally, rice loading supervision, facilities to our valued clients. However, if you don't found any desired services below, do send us your particular requirement to consider in details:
---