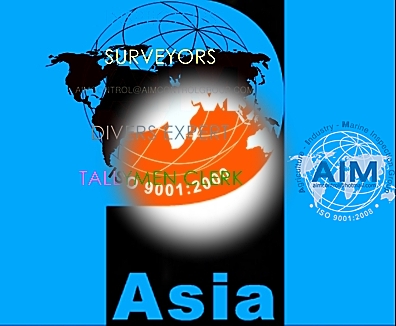 PandI inspection
PandI inspection survey and correspondent in Vietnam
PandI inspection survey and correspondent in Vietnam are activities to protection and indemnity which actions to protect ship-owner's rights and finding out
The root causes and extent of damage to indemnity for claim and dispute as H&M survey, accident investigation, marine and cargo surveys in resolving disputes from a complaint parties against shipowners and P&I members such as claims, ship arrest, court proceedings, compensation and re-change of goods (damage), repairing and renewing, payment guarantee letter, undertake liability letter, loss adjusting, recovery, and release of ship, also other problem

The seaworthiness of ships conform to acceptable standard in maritime and cargo shipping insurance as towing, entry, loss prevention, risks management, technical superintendence, shortage control, handling and storage, lashing & securing, in resolving warranty and approval.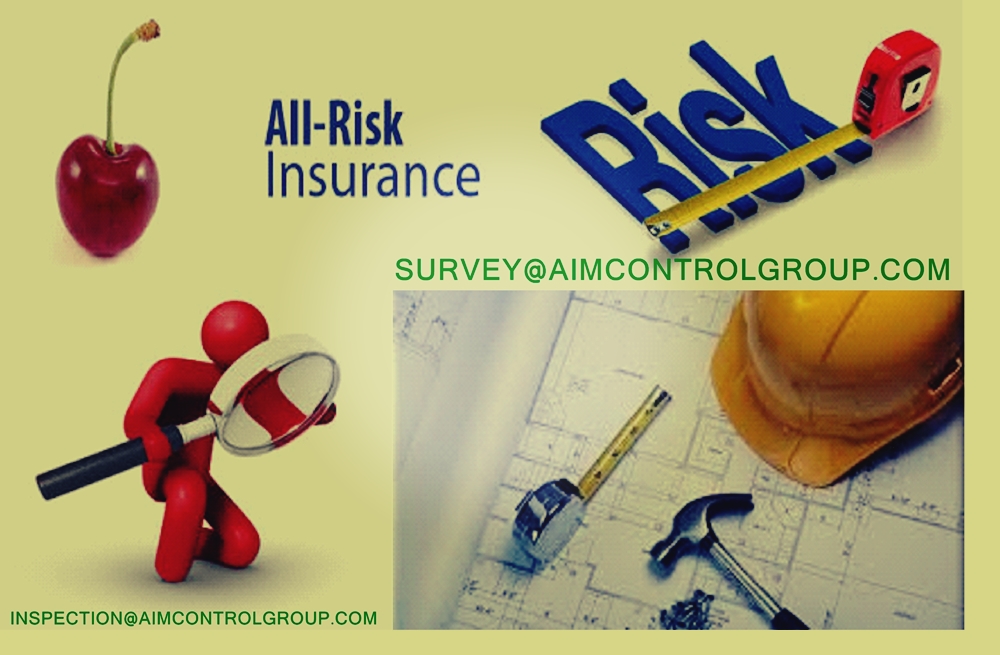 AIM Control's P&I Club & Insurance correspondents act loss prevention and surveas the PNI Club's local representative and our principal function is to deal with the various problems which can confront the ship-owner member when a ship is within the jurisdiction in location is Vietnam and Cambodia as Russia Pool PNI and Hanseatic Underwriters, Meritz Fire & Marine Insurance Co., Ltd and Ship-owner UK & others of P&I Clubs and Insurance companies. Contact us
AIM Control P&I inspections and correspondents can be handled claims and solve problems, whether or not we will give rise to a claim covered under the PNI Club rules. In order to handle such matters we have to enlist the assistance of Vietnamese experts such as AIM Control's surveyors, lawyers and other professionals and the professional experts to be hired.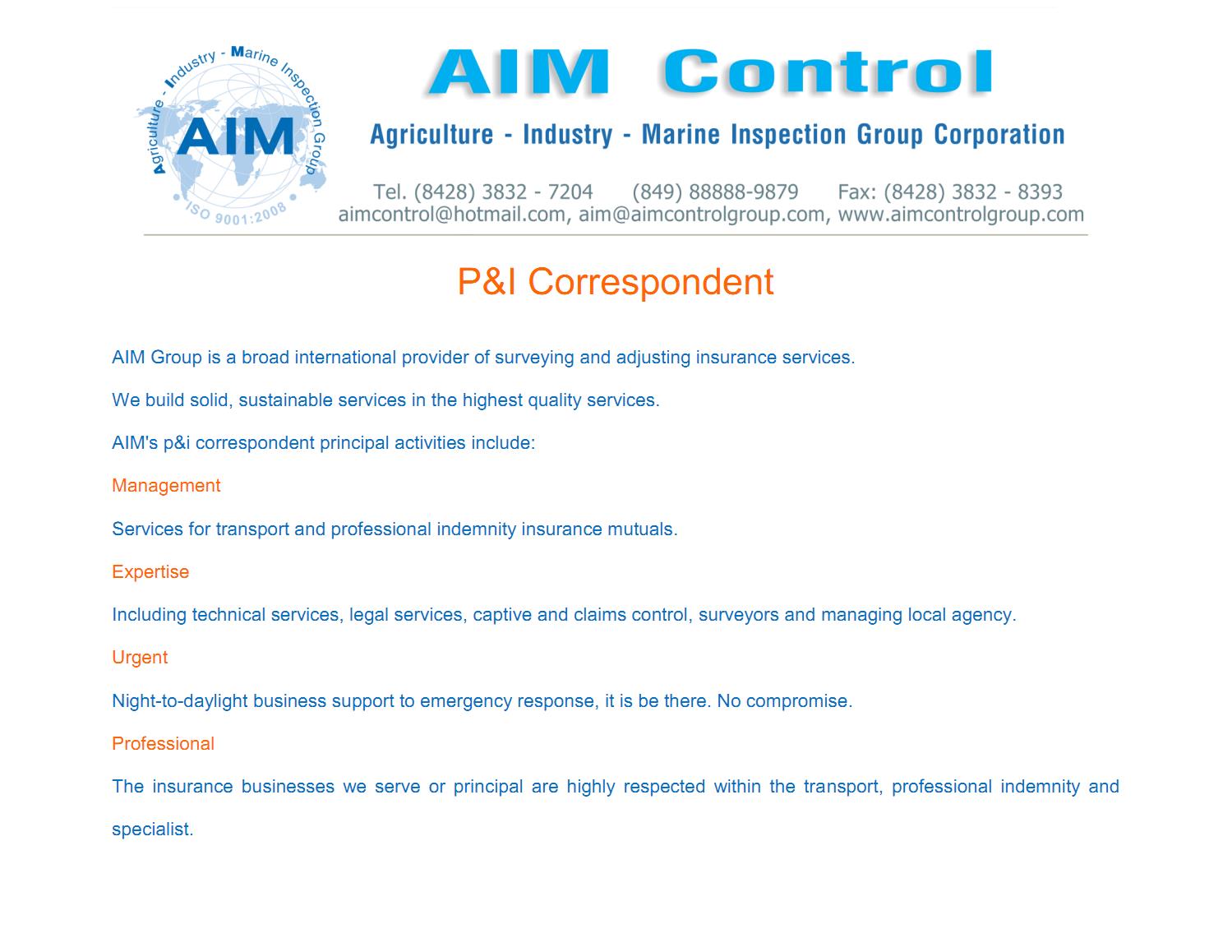 AIM Control's Vietnam P&I inspection services are to provide proper instructions in order to retain control over the handling of the matter. Many of the problems that arise involve Vietnamese, Cambodia and local authorities such as the harbour master, customs and immigration officers with whom we have a good working relationship.
Additionally, we are of the "eyes and ears" of our P&I and Insurance, Underwriters to provide relevant information regarding any changes to local laws or statutory requirements and to advise on any claims trends.
AIM Control's loss prevention inspection has an invaluable part to play in advising the Club on such issues. We respond effectively and efficiently to any casualty which may arise on its shores.We also act to receive instructions directly from a Club member to provide assistance in all manner of matters which may, or may not, be of a PNI nature.
The role of AIM Control Vietnam P & I Club correspondents has provide an efficient and speedy service to minimise the cost of dealing with claims on behalf of the Club for the benefit of members overall.
AIM Control is a leading global provider of Marine Surveying and Adjusting Services to the international marine insurance industry and to businesses operating in global cargo, shipping, transportation and supply chains with the leading roles of Protection & Indemnity Insurance Correspondents services. Our marine surveyors operate worldwide on behalf of our clients for loss or damage to cargo, one off or project cargo insurance warranty surveys, marine casualty or machinery breakdown, a range of offshore services and risk control and security services on behalf of PNI Clubs and Insurance, each member of ship-owner insurance clubs as Protection & Indemnity Insurance Correspondents services.
We operate "PNI Insurance correspondents services" with the understanding that 'the client's fate is our fate' and every service we provide is conducted with a meticulous attention to detail.
AIM Control's People / Expert / Expertise
At AIM Control, we draw upon and range of technical skills and have professional personnel qualified in a range of areas, typically; Master Mariners, Marine Engineers & Superintendents all offering specialised knowledge, having extensive seagoing experience in their particular field. Based in Vietnam, assignments are managed globally through operations in Vietnam, Asia.
We are able to act as a general Correspondent in Vietnam, Cambodia. Our Vietnam Head Office, has been acted as Correspondent to a number of PNI Clubs over the last 20 years and continues to extend our services to more Clubs and Underwriters. We cover the whole Ports of Vietnam and Cambodia with our extensive network. Our staffs are fully conversant with local law & regulations and practices in their area, providing clients with direct support and advice on a 24 hour basis.
PnI Inspection services (Adjusting & Loss prevention)
The PNI Correspondent and adjusting of marine cargo claim services of Marine surveyors, cargo inspectors and consultant experts of Agriculture Industry Marine Control Survey and Inspection Group (AIM Control) conducting upon the marine vessel accident surveys /consultants, H&M incident surveys /consultants, collision survey /consultant, loss and/ damage cargo surveys and consultants, fire survey, casualty investigation and marine consultants in case arising a claims, conflicts between Ship-owners, Chartering, PNI Clubs, Buyers, Seller, Insurers and insured and concerning parties in Ports of Vietnam and in water regions of harbour, on ship's holds, buyer's warehouse, on port's yards, . . .at the time of marine and cargo claim happening. Email: aimcontrol@hotmail.com, cell: +84903615612.
Reason and Results of PnI Inspection & Correspondent services
Reason of PNI Correspondent to representative of PNI Clubs, Ship-owners, Underwriters and Insurers or others as AIM Control's client to resolve, negotiate, adjusting and marine and cargo claim surveys if having incident/ accident.

Results of PNI Correspondent to protect and indemnify AIM Control's client's legitimate rights from the dispute, conflict, claim may occur related to incident/ accident in the shipping.

Reason of marine and cargo claim survey services are to assess accurately extent of damages, loss and investigate the root of causes, faults of parties and loss prevention may be raised followings.

Results of marine and cargo claim survey services are in order to protection and indemnity the legitimate rights of the victims and the complainant as well as our client in the dispute, conflict, may occur related to incidents and accidents in marine and shipping cargo.

Reson of P&I loss prevention to risks management

Results of expert witness and warranty approving.
Therefore, the based requirements OF P&I Ship owners mambers, AIM's marine warranty surveyors, cargo inspectors and consultant experts will perform at least the following steps:
Step 1. Immediately attend at the site of survey to assess the alleged primary damage and/or loss of this incident/ accident.

Step 2. Immediately inform the fact situation of step 1 to our client as PNI Club, Underwriter & others via verbal, email, fax, phone.

Step 3. Immediately consult the suitable actions to Masters, C/O, Agent and Our Client's Authorities.

Step 4. Continuously monitor the opinion, the feedbacks of Our Client's authorities and concerned parties to respond in time.

Step 5. Carefully study the accidental externally and incidental internal to identify liability, third party liability, rights of subrogation and claim. so far as the damage/ loss caused to ship, marine, cargo and others are concerned, caused as a result of (potentially)

Step 6. Immediately contact with all of concerning parties to conduct a meeting for discussing on the incident and accident and expose a decision of actions under witness and jointing by concerning parties.

Step 7. Recommend concerning parties on their responsibility by verbal, official letter, email, fax, . . .(having their acknowledgement)

Step 8. Arrangement/ appointing marine surveyors, cargo inspectors, consultant experts carrying out the marine and cargo claim survey services.

Step 9. Immediately confirm the situation of step 5 to our client as PNI Club, Underwriter & others via verbal, email, fax, phone and getting their opinion in that case.

Step 10. Immediately re-contact with all of concerning parties to negotiate and adjust on the results of the marine and cargo claim surveys. If necessary, immediately invite the lawyers, attorney.

Step 11. Immediately release the accident and incident aiming prevention of loss/damage arising.

Step 12. Recommend again concerning parties on their responsibility by verbal, official letter, email, fax, . . .(having their acknowledgement).

Step 13. Others relation.
P&I SURVEY FOR CARGO & MARINE
Document of the title
Collecting all of major documents consisting of Original policy, Contract, Fixture Note, Recap of Charter Party, Invoice, Packing List, Letter Protest, On-site Survey Report, Letter of indemnity, Undertake Letter, Claim Letter, Claim Bill, Letter of Subrogation, ship arrest warrant. ship release, etc.
AIM Control's standard repereseatative of P&I Ship owners clubs, AIM Control's activities as followings:
All potential conflicts must be reported to your principals.

Do not accept hidden commissions from surveyors or other parties appointed on the Association/Members behalf.

Always ensure that the Members/Insurers interests and not your own are being served.

Never act without the authority or agreement of your principal.

Ensure adequate separation between funds provided by your principal for the settlement of a claim, and own company assets.

At all times respect the principals relationship with a member and not actively disturb this relationship to the benefit of another principal.

Always act in accordance with the local laws.
The head office Vietnam (all of ports in Vietnam):
45, Street 03, Ward 04, District 03, Ho Chi Minh City, Vietnam
Email: aimcontrol@hotmail.com, inspection@aimcontrolgroup.com
Tell: +84 28 38327204, Fax: +84 28 38328393, H/P: +84903615612
The editor: Dr Capt. Nguyen Te Nhan
AIM Control conducts a variety of ship and cargo surveys for a wide base of clients including:
PNI Clubs

Underwriters

Marine Law Firms

Loss Adjusters

Ship Operators
See more our surveying and investigation, namely (but unlimited)
PNI condition surveys

Cargo damage surveys and investigation, identify causes and extent of loss and/or damage (for damage cargo on board of vessel or damage cargo in containers)

Liquid cargo contamination investigation

Steel preloading and out-turn surveys

Pre-purchase surveys

Hull and Machinery surveys and repair supervision (also see our ship collision survey)

Dry-Docking survey

Ship condition surveys and evaluation

On hire survey / off hire and bunker surveys

Towing inspections and certification

Loss adjusting surveys and investigation

Expert witness surveys, investigation and opinion for law firms

Petroleum loss control investigation

Grain cargo Pre-loading survey and tally of quantity, bagged loading supervision, in bulk loading survey.

Project cargo inspection and Heavy lift cargo unloading survey.
Our mission is to respond quickly & positively, and communicate our clients needs. In doing so, we are able to protect our client interests by maximising control and minimising exposure to damage and lost time.
We are an independent marine inspectors, marine surveyors and incident & accident experts providing cargo insurance surveys, marine & ship survey, reports and certificates based in Vietnam, Hong Kong, China, India, Korea, Singapore & Asia, Italy, Germany, Unit Kingdom, Russia & Europe, the Middle East, Brazil, Chile, Argentina & Ect., Anywhere of Countries to protect your orders in good condition.
The followings are some of evidence P&I adjusting and loss prevention services carried out by AIM Control's independent marine warranty surveyors and incident & accident experts under the appointed of Ship-owners, Loss Adjusters, PNI Clubs and Underwriters and others in Vietnam at the Ports, Harbors, onboard of ships, shipyard, consignee's warehouses. We would also like to apologize your customers for some sensitive information not mentioned in this contents.