Pre-shipment Inspection Services
When buying goods from abroad, buyers need things for their shipment as standard of PO?
Pre-shipment Inspection services are to audit and verify quality, packing, marking, weight, quantity and its function regaling to cargo, products, commodity, goods and others before exporting.

In international trading, the buyer could not be present 24/24 at the premises of the seller (supplier) to control the goods purchased. The buyer have no enough experience to perform the pre-shipment inspection for the goods their buying, and the more difficult is the difference in language, expenses of accommodation, travel, airfare and others and a lot of time for this but but the ineffective.
Buyers need to do in this difficult situation? AIM Control's experts will do the pre-shipment inspection for buyer with inspection fees lower your expenses and the effective.
AIM Control's Pre shipment inspection services, also called pre-exporting inspection or PSI, is an important and reliable quality control and verification for shipment as well as identify specification of quality, weight and quantity, packing & marking, sizes & function before exporting to report of inspection results to AIM Control's customer. To order AIM Control's inspection services, please kindly contact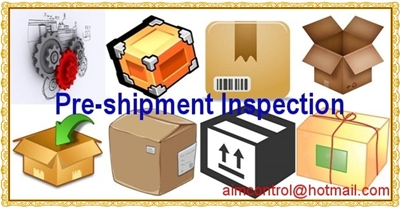 Place of shipment inspection: - at the Supplier's premises and warehouse, seller's factories, manufactories, place of shipment loading/ stuffing into containers, port of shipment loading.
Time of goods inspection: At the time of loading/ stuffing in supplier's premises, at the time of loading on board of marine vessels, ship's holds.
Scope of AIM Control's inspection: There are 02 stages, namely:
Final inspection services (before loading/stuffing) as per AQL or 100% of shipment

Loading supervision and Tally of shipment's quantity. (if AIM Control's customer approved on PSI)
When the shipment is completed in production and at least 80% of shipment to 100% of its packaged, AIM Control's qualified inspector is appointed to Supplier's premises, seller's factories to perform the pre-shipment inspection and audit, verification.

After a shipment inspected, AIM Control's customer will receive a detailed report of shipment results with the pictures taken on-site.

AIM Control (AIM Group®) also conducts of loading supervision after shipment passed by customer and tally of quantity, witness of sealing, survey of container's condition and relative actions.

After ordering a number of articles, Customers (Buyers, Purchasers) order AIM Control to arrange inspector for carrying out a job of inspection. AIM Control's operator will contact with Sellers / Supplier to get the status of shipment and time of inspection after that information to customer.

Under AIM Control's inspection services, not only the customers greatly avoid all of risks, eliminate entirely defects of shipment and to that ensures the conformity of shipment to buyer/ receiver as customer's specifications, purchase orders or letters of credit, requirement.

AIM Control's inspections of shipment in AQL Standards are to ensure shipment's products, goods conformity with its quality standards, technical specifications and contractual requirements before exporting.

AIM Control (AIM Group®) is a leader in providing cargo vendor inspections before exporting across Vietnam and Asia, Global

As leading inspection, verification, testing and certification and tally Company, AIM Control's clients can rest assured of our best services for quality and integrity. As a result, we can provide you with inspections wherever you need them. That is why AIM Control is the first choice for exporters and importers of products.

If AIM Control (AIM Group®)

also is carried for government, not only carrying out physical inspection but also verifying to prices of this shipment and the correct tariff classification of the import country. The purpose is to safeguard national financial interests (prevention of capital flight and commercial fraud as well as customs duty evasion, for instance) and to compensate for inadequacies in administrative infrastructures.

Next=> See more "the cargo inspection"

Main check points for AIM Control's pre-shipment inspection services
Evaluate the product if matches with product specifications

Evaluate product for safety, design, function, appearance, and performance.

Assess packaging form.

Verify material/ components if match related standards of import country.

After sending results of inspection and picture as well as the consultant to buyers/clients, the goods will be supervised to loading into containers, ship's holds (if having approval of client/buyers).
Detailed activities included
Dimensional goods inspection.

Documentation goods review.

Packing and marking goods checks.

Visual goods inspection.

Witness goods tests.

Witness sample measurements in factory.

Verifying the number of cargo packing cases and marking against contractual specifications.

Checking for appropriate handling during loading.

Tally of quantity (if client requests to loading supervision)

Checking the stowing, fastening and wedging, lasing on the means of transport.

An Pre-shipment certificate is issued to the importer. This is used to substantiate the actual goods for the approval and the payment of full duty, prior to clearing the Why choose pre-shipment inspection services of AIM Control Inspection Group?
As Vietnam and Asia leader in providing of inspections, AIM Control's experience surveyors and inspectors and experts conduct a detailed shipment inspection prior to shipment, in the country of exportation. AIM Control's inspections are to support you to:
Assure the quality, quantity, marking, packing and loading of your shipments.

Be certain that your goods are handled safely and correctly.

Ensure that your goods arrive at their place of destination in compliance with technical specifications, quality standards and contractual agreements or otherwise-specified requirements.

To pre-shipment inspect on specifically cargo or product, our surveyors also are appointed to be educated and experience in this specifically.
Contact us today to find out how modern pre-merchandise shipment inspection services can assure Client's buying of shipments meet quality standards, technical specifications and contractual requirements before exporting.
Before purchasing, ordering each shipment, AIM Control's clients may need to know "how/who/what is supplier", AIM Control also offers the services of Supplier Audit on First One Visit, or full assessment, Production Witness and Supervision, Final Inspection, Loading supervision, Cargo Tally and Sealing Witness.
Container loading Supervision services,
Cargo Inspection services and loading supervision into Containers
Cargo inspections.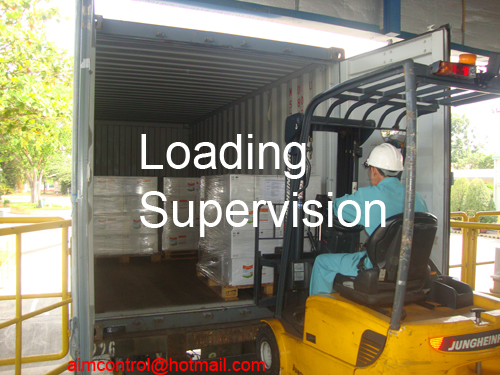 Also see AIM Control's Cargo Inspection – quality control – testing – certification (for Goods – Products, Foods, Cargo, and Commodity)
Inspection control – survey to products, goods, cargo

Inspection Services

Quality control inspection Services

Third Party Inspection services

Inspection – survey – audit to Factory, Mill

Inspection – survey – audit to Simple Factory

Inspection – survey audit to Extensive Factory

Inspection – survey to First Article

Pre Production Inspection services

During Production Inspection/Survey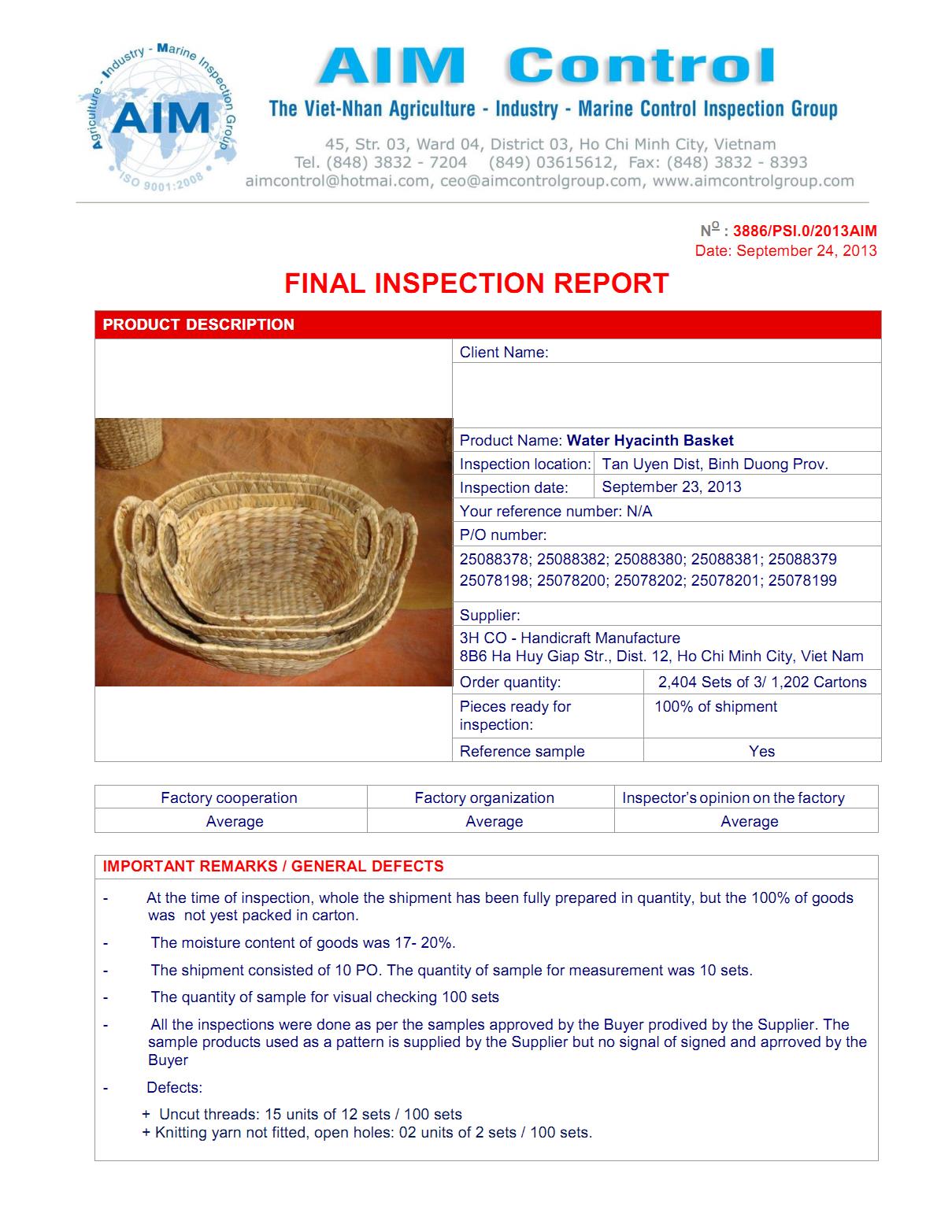 Production Monitoring / Supervision

Final Production Random Inspection

Shipment Inspection services

Product inspection services in AQL standards

Synchronism inspection services

Quality assurance services

Quality inspection services

Inspection quality services

Inspection quantity services

Factory Audit services

Agricultural products inspection

Corporate Social Audit Inspection

C-TPIT Audit Inspection/Survey

Defect Sorting Services

Witness to the production

Inspection & supervision of goods loading/discharging

Tally of quantity

Testing of products & materials lab analysis aim to identify brand name, component

Inspection of weight, quantity, condition, quality, dimension, packing, marking & export / import cargo / tally

Testing – analysis in lab.

Damage survey

Certification services

Etc.
Thank you
Our Offices & Branches:
Vietnam Albania Algeria American Samoa Angola Antigua Antilles Argentina Aruba Ascension Island Australia Austria Azores Bahamas Bahrain Bangladesh Barbados Belarus Belgium Belize Bermuda Bolivia Brazil Brunei Darussalam Bulgaria Burkina Cambodia Cameroon Canada Canary Islands Cape Verde Islands Cayman Islands Chile China Colombia Cook Islands Costa Rica Croatia Cuba Cyprus Czech Republic Denmark Djibouti Dominican Republic Ecuador Egypt El Salvador Estonia Falkland Fiji Finland France French Guiana French Polynesia Gabon Gambia Georgia Germany Ghana Gibraltar Greece Greenland Grenada Guadeloupe Guam Guatemala Guyana Haiti Honduras Hong Kong Hungary Iceland India Indonesia Iran Ireland Isle of Man Israel Italy Ivory Coast Jamaica Japan Jordan Kazakhstan Kenya Korea Kuwait Latvia Lebanon Libya Lithuania Luxembourg Macao Madagascar Madeira Malaysia Maldives Malta Mauritius Mexico Micronesia Moldova Monaco Morocco Myanmar Namibia Netherlands Antilles New Zealand Nigeria Norway Oman Pakistan Panama Papua New Guinea Paraguay Peru Philippines Poland Portugal Puerto Rico Qatar Republic of Panama Romania Russia Samoa Saudi Arabia Scotland Senegal Sierra Leone Singapore Slovakia Slovenia Solomon Islands South Africa South Korea Spain Sri Lanka St. Kitts & Nevis St. Lucia St. Vincent Suriname Sweden Switzerland Syria Taiwan Thailand Trinidad & Tobago Tunisia Turkey Turkmenistan Turks. Ukraine United Arab Emirates United Kingdom Uruguay US Venezuela Virgin Islands Yemen Yugoslavia Zambia Zimbabwe at Harbor (Harbour), Sea Ports, any Vendors and Premises of suppliers.
The followings are our evidence of AIM Control's Pre-shipment inspection, cargo tally, loading supervision, weighing, sampling services to protect AIM Control's right in purchasing to prevent any shortage/ disqualify at Supplier's Vendors or Premise: