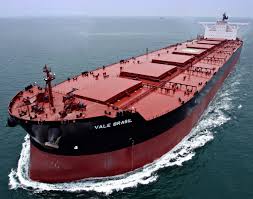 Bulk Carrier Hold Inspection
Bulk Carrier Hold Inspection
Prior to loading grain, a bulk carrier ship is identified on condition is suitable for loading a new shipment. AIM Control offers the bulk carrier hold inspection.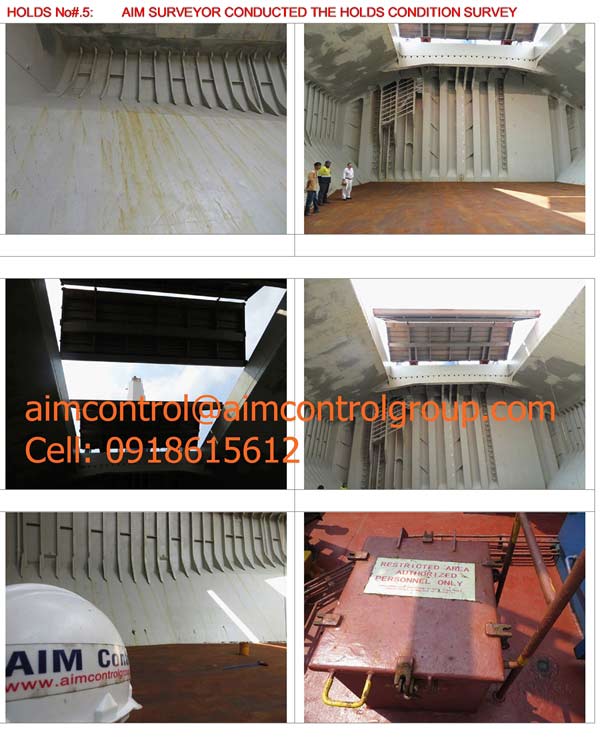 The Pre-advisory bulk carrier hold Inspection were conducted in the following manner
All cargo holds were entered and any areas of concern noted therein, as well as on the vessel's main deck area surrounding all hatch openings.
References for the purpose of identifying locations in this report are from Port to Starboard when facing appropriate bulkhead, and from forward to aft in way of ship sides. All heights within the holds are measured upwards from plating. For fittings and equipment, the heights are stated from base upwards.
References with respect to tank top plating are counted numerically in strakes which run fore and aft in each hold.
The vertical ladder, the underside of the upper deck and the hatch end coaming all horizontal surfaces, the bulkhead, the ship's sides.

The tank top, the accessible pipe guards and surfaces, behind frames, pipes and pipe guards.

The insides of any deck houses for grain and insects

Open and close hatch covers several times

Bilges & Bilges line testing

Hatch covers & Rubber gasket (packing)

Ventilation trunk and other

Beam, stiffeners, frames, ballast water pipes in holds at end, pipe guard brackets, catchment area, cargo hold temperature pipes

Man-holes of tank top

Additional structural others.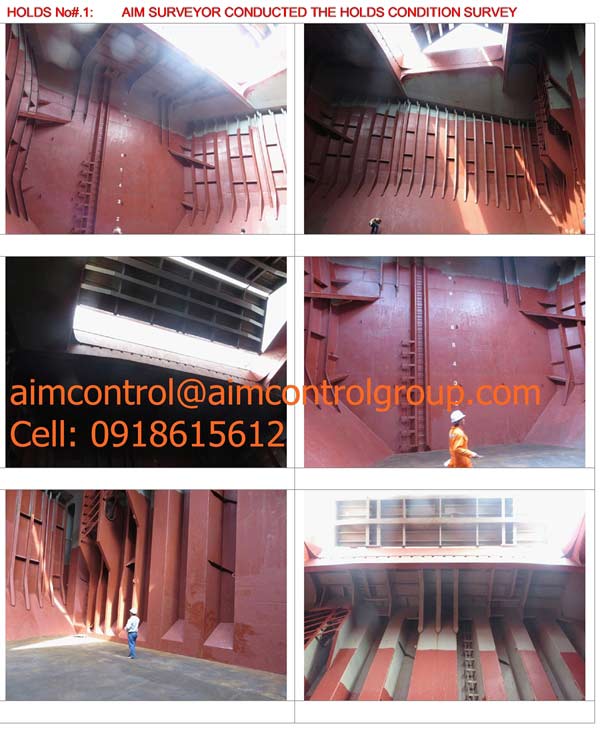 Hold cleaning in bulk carriers – grain
• Hospital clean
• Grain clean
• Normal clean
• Shovel clean
• Load on top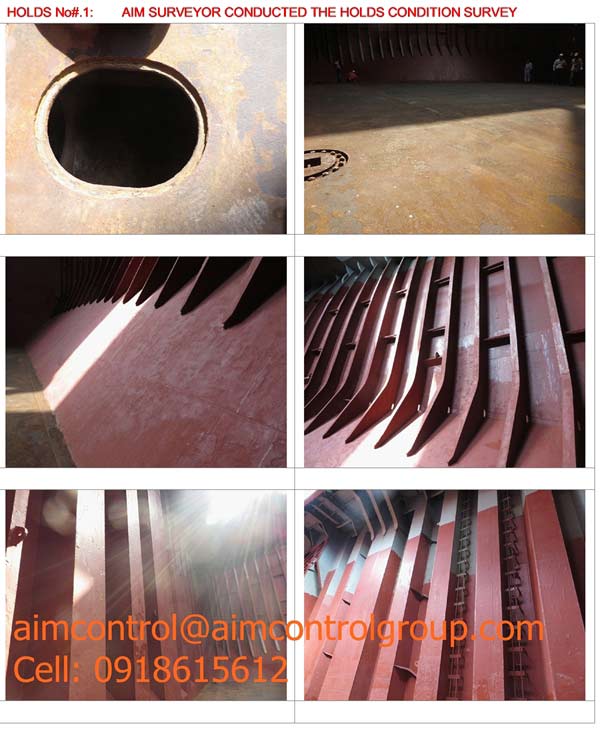 Some of causes for failing in Bulk Carrier Hold Inspection pass
Most ships fail hold inspections as a consequence of cargo residues loose paint or rust scale being found in the upper, less accessible parts of the holds, or as a result of previous cargo debris falling from the hatch covers during the ballast voyage. In order to avoid such failures, officers are advised to take every opportunity to clean the upper parts of holds and frames with suitable access equipment such as cherry-pickers. Alternatively, if it is safe to do so grain, fertilizers and similar cargoes can be swept off the under-deck beams before the start of discharge.
This is of particular importance when trading to countries such as Australia, where the Australian Quarantine Inspection Service operates a zero tolerance policy, under which detection of a single particle of certain previous cargoes or other contaminants will fail a ship, and the consequences of that failure may be significant. The possible sanction for a loaded cargo is that it will be quarantined, and discharge in Australia will not be permitted. Examples of contaminants that may incur such sanctions are the presence of a single grain of substances such as cereal, peas, beans, stock feed, rice, animal-based contaminants such as feathers, soil and sand.
This is evidence of AIM Control's Ship Break Bulk Carrier Hold Inspection on her condition while Vessel at San Lorenzo of Argentina:

References:
IMSBC Code (International Maritime Solid Bulk Cargoes Code), issued by the IMO, 2009 Edition

MARPOL 73/78, Annex 1 & V

www.amsa.gov.au/Shipping Safety/Marine Notices/2008/1508.pdf

www.amsa.gov.au/Publications/PDFs/Drybulk.pdf

www.daff.gov.au

http://australia.gov.au/topics/business-and-industry/primary-industry/quarantine-and-inspection/

www.usda.gov

www.natcargo.org

Bulk Carrier Practice – A Practical Guide. The Nautical Institute.

Bulk Carrier Guide
Contact us