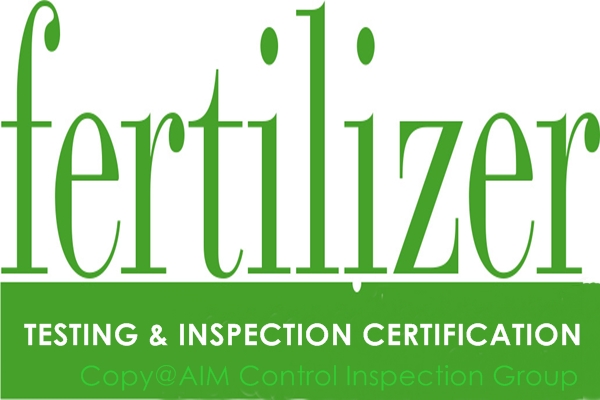 Fertilizers Testing and Inspection Certification
Fertilizers Testing and Inspection Certification
AIM Control Inspection Group not only offers a fertilizers testing and inspection certification as quality control, inspection and testing to certificate before all of fertilizer kinds used for the clean agriculture in exporting and importing but also weight inspection, quantity tallying and calculating to find the exact specification and weight basing on P.O, Contract, and Policies. in Vietnam, China, India, Korea, Asia, Europe, the Middle East Anywhere of Countries. Our Locals
AIM Control's fertilizers testing and inspection certification services included
Quality fertilizers laboratory testing and analysis

Weight & quantity inspection.

Other fertilizers inspection and supervision services (packing, loading, stowage, unloading . . .)
AIM Control has global offices local to service of the fertilizers testing and inspection certification at any loading ports, supplier and seller's premises, container & vessel, unloading port and receiver's warehouses where customer orders on quality and weight of fertilizer testing and inspection certification controlling.in bulk, in bag and in fertilizers liquid.
Kinds of fertilizers tested and and inspected certification:
Urea Fertilizer

NPKs Fertilizer

DAP, MAP Fertilizer

Potash, Sulphur Fertilizer

Anhydrous Ammonia Fertilizer

Granular TSP Fertilizer

Solution Fertilizer

Raw Materials and Fertilizer Feedstock

Other fertilizers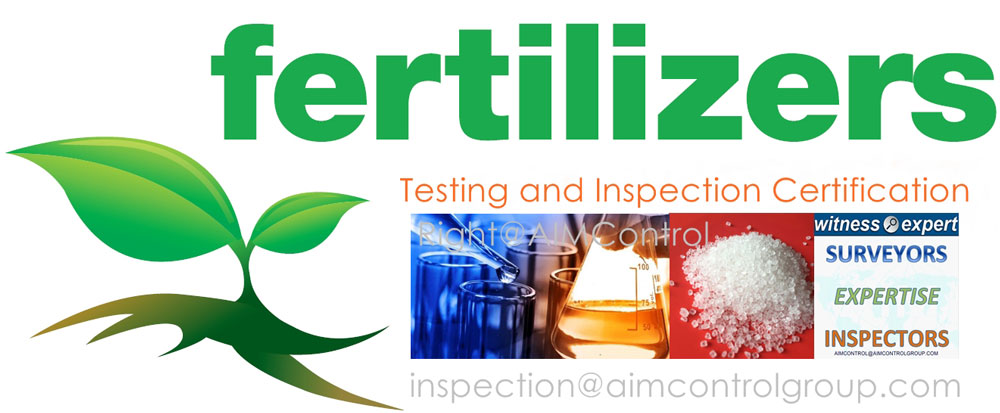 The purposes to AIM Control's Fertilizers testing and inspection certification services
To determine on specification of fertilizers (quality control).

To measurement on weight of fertilizers and its quantity.

To identify on marking, label, packing of fertilizers.

To issue a fertilizer inspection certification (third party inspection).

To control one shipment of fertilizers is suitable for a selling & buying under contracts/ P.O

To damage survey (investigation) on cause and extent of damage / loss of fertilizers shipment for Claim / Cargo Insurance Policies

To control for Government's purposes

To protect environment.

To meet with a clean agriculture for farmers, seeds, crop protection products, fertilizers (Agriculture civilization)

Others
The places are used to a Fertilizers testing and inspection certification:
AIM Control's Agriculture Survey Department where arrangement a fertilizers tester, lab. analyzer at offices and fertilizers sampler, surveyors & inspectors to conduct the Fertilizers testing and inspection certification at the sites of factories, manufactories, seller's premise, at warehouse, at loading port, at discharging port and produce instantaneous reports via computer links to clients. AIM Control certificates are recognized and valued in the global fertilizer trade and are accepted in the markets as true evidences.
At sampling and survey of fertilizers at factory / manufactories.

At weight & quality control of fertilizers at seller's premise. (exporting countries).

At survey of fertilizers at buyer's warehouse (importing countries).

At quantity supervision of fertilizers during loading at ports (for Vessel and Container)

At damage joint survey and loss prevention of fertilizers at discharging operation (for cargo insurance and dispute).

At anywhere.
A fertilizer quality & weight inspection results and digital images are sent to AIM Control's clients in a matter of minutes. AIM Control clients to see exactly what condition their product is in, allowing them to make critical decisions.
Appointment of AIM Control's fertilizer surveyors & inspectors
AIM Control appoints such number of persons, as it thinks necessary, to be inspectors of fertilizers for the purposes of each Order, and may, in any such notification, define the limits of local area within which each such inspector shall exercise his jurisdictions.
Graduate in agriculture or science with chemistry as one of the subjects, from recognized university; and

Training or experience in the quality control of fertilizers and working in the State or Central Department of Agriculture.
Powers of Inspectors
An inspector may, with a view to securing compliance with this Order:- require any manufacturer, +importer, pool handling agency, wholesale dealer or retail dealer to give any information in his possession with respect to the manufacture, storage and disposal of any fertilizer manufactured or, in any manner handled by him.
Laboratory for analysis
A fertilizer sample, drawn by an inspector, shall be analyzed in accordance with the instructions contained in Central Fertilizer Quality Control and Training Institute, Regional Fertilizer Control Laboratories.

Every laboratory referred to in sub-clause shall, in order to ensure accurate analysis, of fertilizer samples, possess minimum equipment and other laboratory facilities, as may be specified from time to time by the Controller in this behalf.
Time limit for analysis, and communication of result
Where sample of a fertilizer has been drawn, the same shall be dispatched along with a memorandum to the laboratory for analysis within a period of seven days from the date of Its drawls.

The laboratory shall analyzes the sample and forward the analysis report within [05 to 30 days] from the date of receipt of the sample in the laboratory.

The authority to whom the analysis report is sent the result of the analysis to the dealer/manufacturer/Importer/pool handling agency from whom the sample was drawn within [10 days] from the date of receipt of the analysis report of the laboratory.
One of Fertilizers testing and inspection certification done by AIM Control at exporting countries:

Fertilizers damage survey done by AIM Control in warehouse of buyer at importing countries: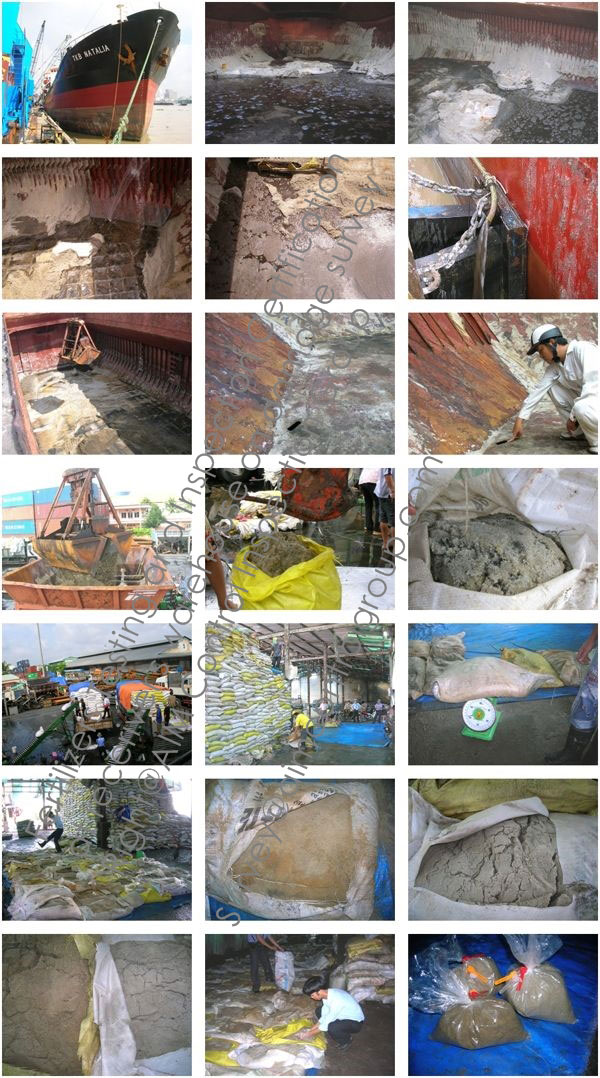 FERTILIZERS & INPUTS CONTROL / INSPECTION & CERTIFICATION
AIM Control is one of the largest provider of control and inspection on fertilizers and agricultural inputs in Vietnam and Asia as well West Africa.
We have extensive experience with mature organizations in Vietnam and Asia
We have a significant network of surveyors and office branches across Asia and Worldwide
ABOUT FERTILIZERS & INPUTS CONTROL & INSPECTION
AIM Control's customers for inspection and control on fertilizers and agricultural inputs are diverse, including large farmers, cooperatives, governments, food, mining and industrial companies, Agriculture goods and commodity traders and merchandisers. We are also expanding our network from Asia to global, thus consolidating our global footprint.
AIM CONTROL'S STRENGTHS IN FERTILIZERS & INPUTS CONTROL / INSPECTION
Our primary business includes control and inspection on importing and distributing fertilizers, making use of strategic ports in a range of countries. We acknowledge clear the goods through customs, store, blend, bag, bottle and transport them to farmers.
Strong product insights and specification also contribute to the excellent relationships to the environment & requirement of our client.
AIM Control has a full agricultural inputs control and inspection for farmers, seeds, crop protection products, fertilizers and silobags, as well as agricultural tools and machinery. We also provide third party inspection a range of chemicals to the industry.