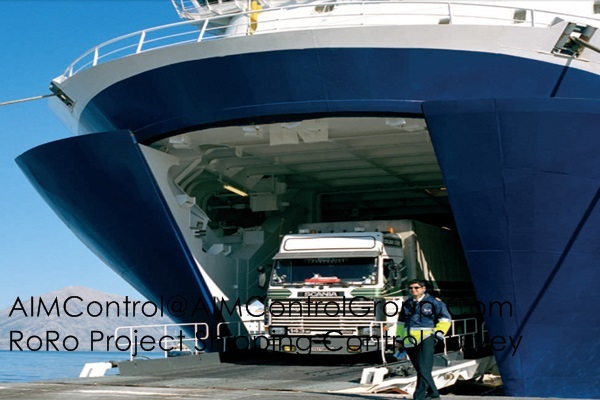 Vehicles RoRo Ship Stowage Securing Control Survey Certification
Vehicles RoRo Ship Stowage Securing Control Survey Certification
AIM Control offers the vehicles RoRo ship stowage securing control survey certification for client to ensure Vehicles and its other cargo are safety shipping in practice codes transportation at sea.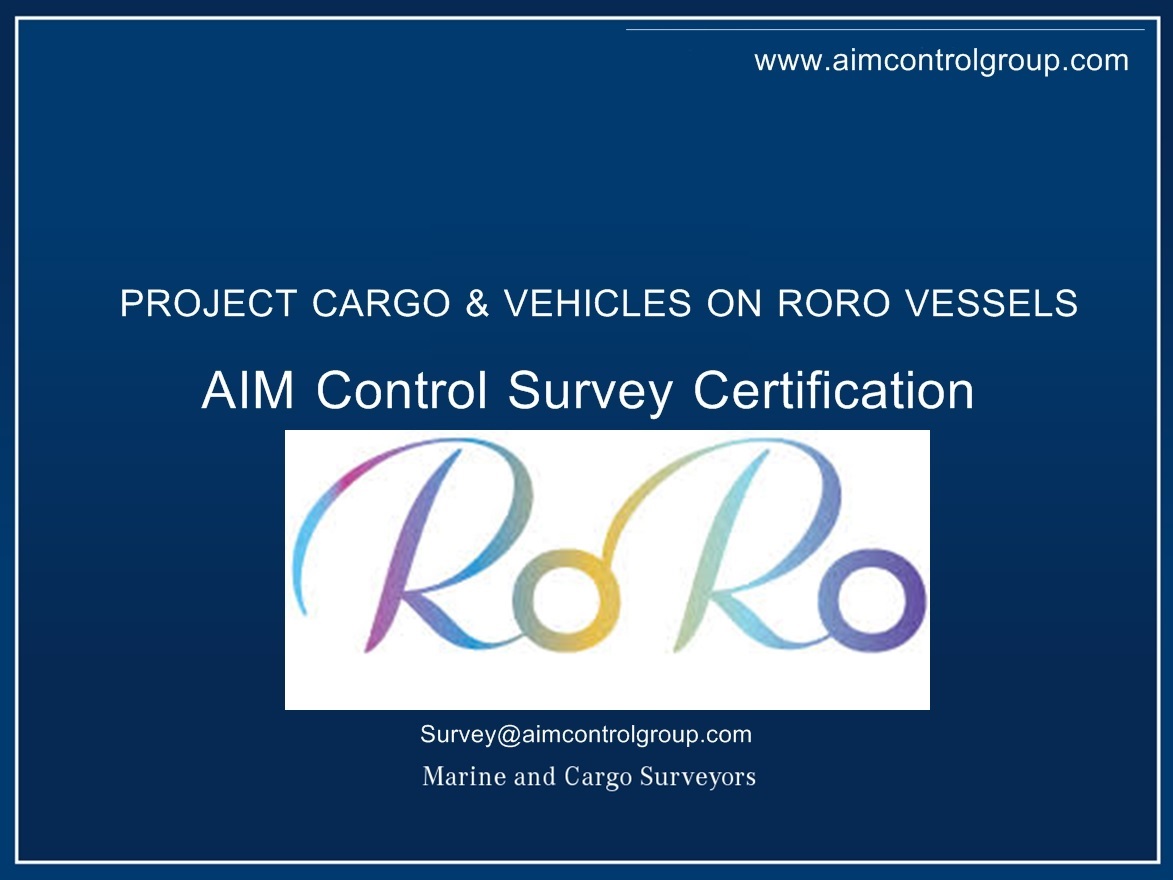 AIM Control conducts the Vehicles RoRo Ship Stowage Securing Control Survey Certification to prevention risks of a Accident or an incident when a Heavy Goods Vehicle (HGV), consisting of a car, a tractor unit and a semi-trailer bulk powder tanker, trailers, trucks, railroad cars left the deck of a high speed ferry as it accelerated away from port that are driven on and off the ship on their own wheels or using a platform vehicle.
HGV was the last vehicle to be loaded on the port side aft of vessel. Four polyester web lashings had been fitted to the semi-trailer. The tractor's brake applied to control its position on the chassis.
AIM Control's Marine warranty surveyor witnesses the frequency of loading, securing and unloading in the car/ro-ro vessel segment for carriage by sea.
Also check and identify several sources of electrical reefer units, powered, electrical cable, electrical equipment on board, vehicle cabs and vehicle engines.
AIM Control to fire prevention:
Procedures for refrigerated units

Screening and securing of cargo

Placement and marking of fuel cell vehicles / dangerous cargo

No camping at any time (secure the car decks)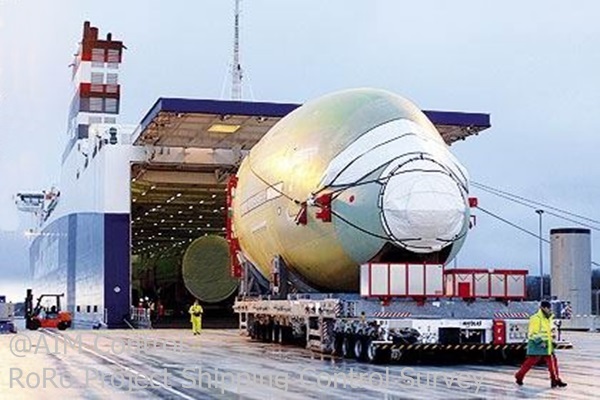 RoRo is Roll-On/Roll-Off (shipping in trading & military), Types of RoRo ships are Ferries, Freight, Ro-Pax, Pure cars carriers and combined carriers (Container Ro/Ro and RoRo / Lift on/ Lift Off - LoLo). The keys are a sources danger; safety; Vehicles decks, Ramps and Lifting appliances, Suitable for transport by sea, Stowage & securing, Lashing arrangement; and Relevant legislation.
Early 1950'. with RoRo Ship, her speed is past at from 17.5 knots to 40 knots, therefore The a Heavy Goods Vehicle must be parked or secured in accordance with the requirements of the vessel's own Cargo Securing Manual and the IMO Code of Safe Practice for Cargo Stowage and Securing (CSS Code) of Vehicles RoRo Ships Stowage Securing Control Survey Certification. and
The number and spacing of the fixed lashing (The Maximum Securing Load (MSL) of the lashings must be approved for use) securing points on the deck of the vessel complied with these codes.
Stages of AIM Control's Vehicles RoRo Ship Stowage Securing Control Survey Certification are Vehicles cargo Pre-loading survey, Vehicles cargo loading survey and Vehicles cargo Stowage Securing Control Survey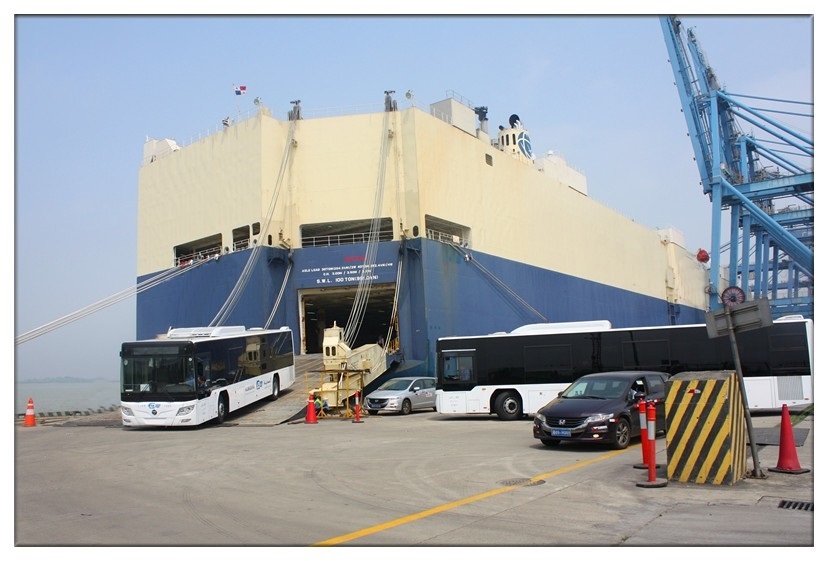 AIM Control provides the inspection and control on handle the shipment of Cars, Trucks, Boats, Yachts, Buses, Motorhomes, Bulldozers, Tractors, Machinery, and other cargo shipments at all of global ports with the following shipping lines:
ACL Cargo / Grimaldi Lines

American Roll-On Roll-Off Carrier (ARC)

Atlantic Ro-Ro carriers

Bahri

Eukor Car Carriers

Hoegh Autoliners

"K" Line

MOL Auto Carrier Express (MOL ACE)

NYK RORO

Siem Car Carriers

Wallenius Wilhelmsen

WECO RoRo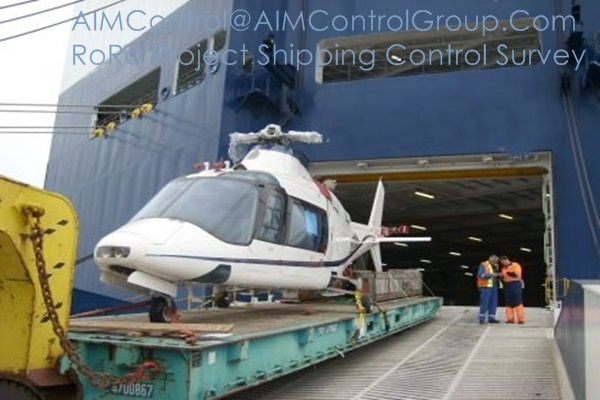 AIM Control also offers the marine inspection services are RoRo Ship seaworthiness survey. RoRo Ship condition survey, Sea fastening inspection, RoRo Ship pre-purchase condition survey, heavy lifting pre-loading, loading, stowage and lashing control and consultancy, container loading supervision, tallying of cargo and supervision, others.
5 reasons to choose AIM Control's Vehicles RoRo Ship Stowage Securing Control Survey Certification
With Saving Cost, time, quality and risk-assessment.
Minimise the risk of damage.

Ensure a safe sea voyage.

Speed up your delivery time.

Get access to land-based services.

Keep your customers happy.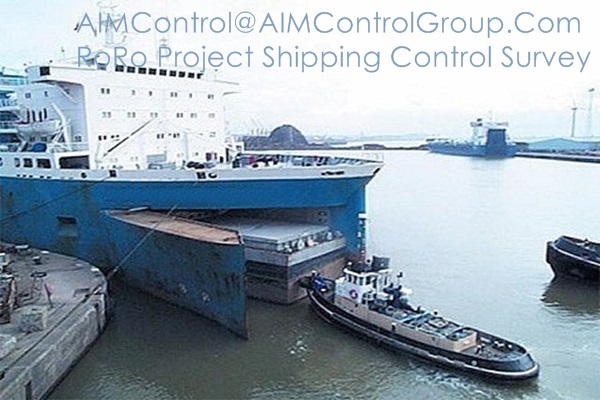 See more AIM Control's Heavylift cargo roro and roll off Survey and inspection services conducted in experienced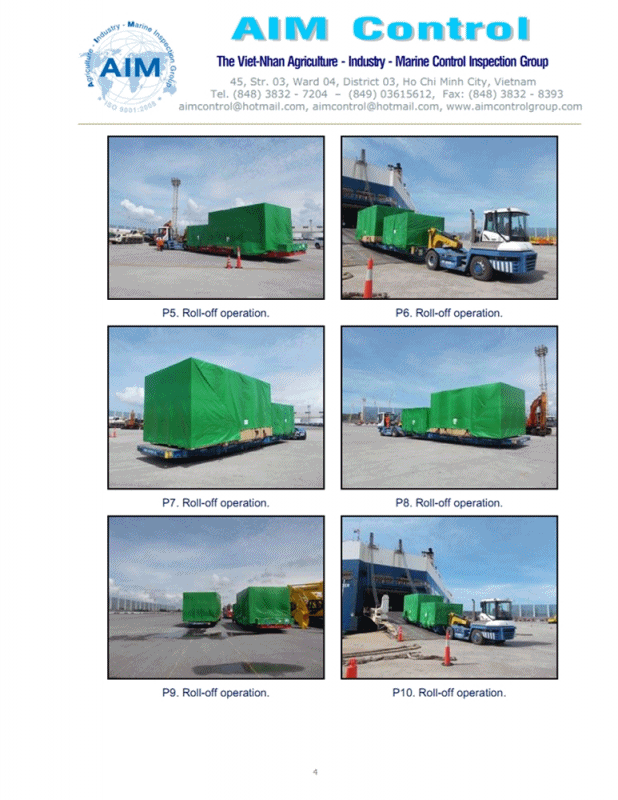 Referring to Automotive Vehicle quality delivery inspection at Factory