Supercargo loading survey lashing securing inspection services
In Shipping of supercargo, the safety is first! its operation therefore to have AIM Control's supercargo loading survey lashing securing inspection services
Heavy lifting of supercargo loading survey and lashing securing control services are to check condition of cargo, checking the condition of packing and packaging, quantity tally, size of random checking (or 100% for packages), monitoring to the loading operation into transportation (vessel, ship, container), monitoring to lashing, securing of cargo, packages together each and into monitoring to and related activities aimed at preventing to damage and / or loss caused to the goods before loading time and during loading period to prevent all of risks and peril.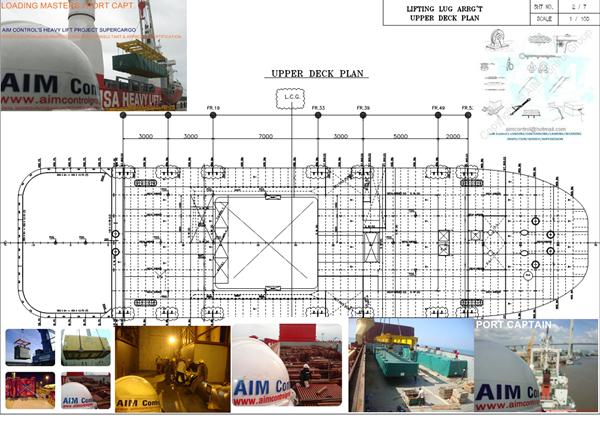 We also carried out to visual check/survey the quality of cargo, quantity of cargo, and measurement of cargo sizes (for oversize) before loading or pre-shipment on board of vessel or ship. Lashing and Securing inspection is intended to determine the packages of cargo were lashed and secured in satisfactory condition to suitable for shipping transport at sea.
It is in these circumstances that please contact with us at: aimcontrol@hotmail.com, cell: +84903615612 to be provided loading survey or securing and lashing supervision services by our local surveyor can be most useful for you to prevent the damage and/loss of cargo or verification cause of damage, loss and shortage for the loaded cargo/goods/products.
Loading supervision & lashing inspection for super cargo, heavy-lifting of project cargo carried out by AIMControl current world trend for green energy and for project cargo specialists who have the required capabilities in the supply chain management and supervision, inspection, witness, verify and certification of oversize plant and equipment, e.g. wind turbines, generators, turbines, reactors, boilers, towers, casting, heaters, presses, locomotives, boats, satellites, military personnel and equipment at manufactory, onto land transportation, loading port, loading on board of vessel, discharging. . .
What is supercargo? Project cargo is a term used to broadly describe the national or international transportation of large, heavy, high value or a critical (to the project they are intended for) pieces of equipment.
Project cargo is also a term used in the international industry to describe Supercargo.
What is heavy lift? The transportation, handling and installation of heavy items which are indivisible, and of weights generally accepted to be in the range of 1 ton to over 1000 tons and of widths/heights of more than 100 meters that are too large to fit into normal or onto conventional transporters.
These oversized items are transported from one place to another (sometimes across country borders) then lifted or installed into place. Characteristic for heavy lift goods is the absence of standardization which requires an individual transport planning.
To transport heavy lift items special trucks or trailers (flatbeds), Break Cargo Vessel are used, which are especially suitable due to their large loading area and capacity. For air transport special large-volume cargo aircraft like are employed which can move up to 250 tons of freight. On inland waters barges are often used.
Transports at sea carry out special heavy lift vessels which often possess won cranes for loading and discharging cargo.
Transportation of heavy lift items ranks among the most challenging and complex services in logistics and is handled by specialized companies, at sea for example by the project and heavy lift carrier.
Super cargo Loading survey & Lashing inspections and heavy lift supervision activities of AIMControlGroup.Com on the Transportation means:
For shipping line/ sea transportation as Ship, Vessel, Containers, Lash, Etc.,

For Land transportation: Trucks, Forklift, Wagon, trailers . . .

For Airlines, aircraft.
Typical items of supercargo to be inspected and supervised by AIMControlGroup.Com
Supercargo/ heavy lift cargo: Cranes, Tandem Crane, Vessel, Airline, etc.

Project cargo: Towers, Structure of manufactory, oversize plant and equipment, e.g. wind turbines, generators, turbines, reactors, boilers, towers, casting, heaters, presses, locomotives, boats, satellites, military personnel and equipment

Other
Example: AIM Control's lashing surveyors / inspectors carried out jobs of supercargo loading survey / lashing inspection for project cargo at the M.V BBC Congo, MV Jan Van Gent, M.V Beluga Fusion, M.V SCL Bern, M.V Scan Pacific, vessel feet of Beluga Shipping GmbH., BBC Shipping, since 1993. Project Name's 720 MW UTE - COAL FIRED POWER PLANT - Ceará, Brazil, at Doosan Heavy Industry Corp. loading and Dung Quat Port, Vietnam to Brazil, Project Name's: IPC cape Scott, at Vung Tau Port, Vietnam to Canada port: Project Name's: Algeria Omania Fertilizer Project at Penglai, China ports to Algeria port. Project Name's: Brigadier Lopez at Vungtau, Vietnam Port to Argentina Ports. . .
Activities of supercargo loading survey lashing securing inspection of AIMControlGroup.com for Supercargo and Heavy Lift
Measurement of volume for supercargo/ Heavy lift packages

Supervising & witness upon land transportation of Loading & Lashing inspections from Factories to ports or opposite

Checking and collecting document of shipment

Checking the capacity of vessel's cranes, bell sling, chain. . .

Checking dunnage and lashing material

Checking vessel and transportation are suitable for transport and seaworthiness

Meeting to Port Capt., Vessel's Master, C/O to find the stowage plan is suitable for loading.

Meeting to Port Capt., Vessel's Master, C/O and concerning parties to the synchronous of entire activities of loading and/ or discharging

Loading inspection and supervision

Witness and writing the packages No. and position of stowage plan

Tally of packages quantity

Witness and supervision of lashing and securing

Consultant of Port Capt., Vessel's Master, C/O for stowage packages of supercargo/ heavy lift in order during loading

Consultant of Port Capt., Vessel's Master, C/O for lashing of packages of supercargo/ heavy lift in order

Writing and report the defect or incident to Supercargo / Heavy lift cargo during loading

Issuance of Incident/ Accident Report of Supercargo / Heavy lift to request Master and Concerning parties signature and stamp.

Phone and contact with requirement personal for updating news and status of loading, discharging. . .

Super Cargo Services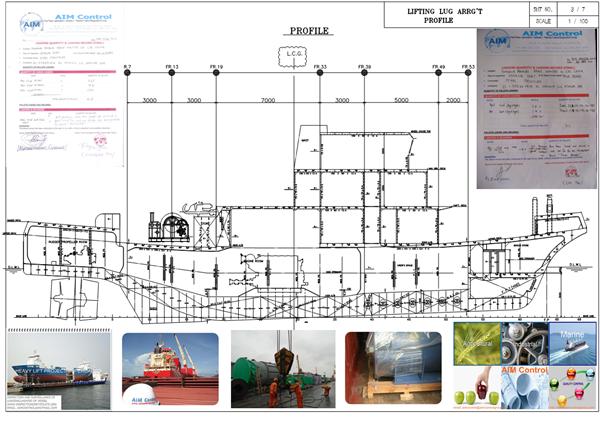 Our services motto:
Cargo Safety – Cost Saving – Swift Distribution
Our head & branches offices of surveyors and experts for loading of super-cargo:
Hochiminh city, Vietnam

Vung Tau City

Hai Phong City

Da Nang City

Binh Son, Dung Quat, Quang Ngai, Viet Nam

China

Korea

India

Chille

Italy

U.K

Germany

Japan

Others
The followings also are AIMControlGroup.Com other services from us
Loading inspection, loading supervision provided by AIM Control Inspection Group at all of ports worldwide to supercargo loading, lasing, discharging to avoid problems such as wrong goods shipped; wrong quantity shipped, damaged merchandise or damaged packaging.
What is exactly loaded on board my ship's holds?

How to inspect/survey/supervise sure of the exact quantity of goods inspection?

How to inspect/survey/supervise sure the factory will not replace goods/cargo/product?

How to inspect/survey/supervise sure vessel/ship crane, holds is safe for the loading?

How to inspect/survey/supervise sure vessel/ship is safe for the transport?
What to inspect/survey/supervise on loading?
The loading inspection covers quality verification, the quantity checking, the packing list checking, survey to condition ship's holds, supervision to the process of the loading (cartons/packages conditions) and also a quick inspection on selected sampling size to check the workmanship, main functions, capacity of ship's crane, capacity of forklift, checking to packaging and packing, checking to tags name, markings, checking to condition of loaded sling, checking to lashing belt capacity, checking to tags name, measurement of sizes.

Check packaging (inside and out) for physical damage

Check all quantities of merchandise

Perform a random Quality "spot-check" on the merchandise

Record the seal number and departure time of ship's holds

Weather, truck forklift, forklift, sling, lashing material etc…

Supervise lashing, securing, dunnage

Record the incident and accident to goods, packages if having any damage

Record the time sheet of loading

Consultant the lashing/loading condition as Port Capt., Loading Mater

Collect the document of B/L, Certificates. . .
When to inspect/survey/supervise on loading?
With the Vessel/Ship (SLS), supercargo loading survey is also called Ship Loading Supervision, will take place right before the PORT and STEVEDORE is supposed to load the goods into the holds of ship/vessel and also during the loading process.
Where to inspect/survey/supervise on loading?
At the ports or anchorage or buoying (for ship, vessel)

Manufactory's vendors
How AIM Control can support your organization with RISKS Control and management for super-cargo and heavy lifting

The videos taken at the site of inspection, survey and supervision during AIM Control surveyors and inspectors conducted the loading survey and securing inspection for Super Project Cargo in over-weight and over-sizes